Top Email Client Compatible For Windows,Mac and Linux
3 years ago
By Jeksani Mounika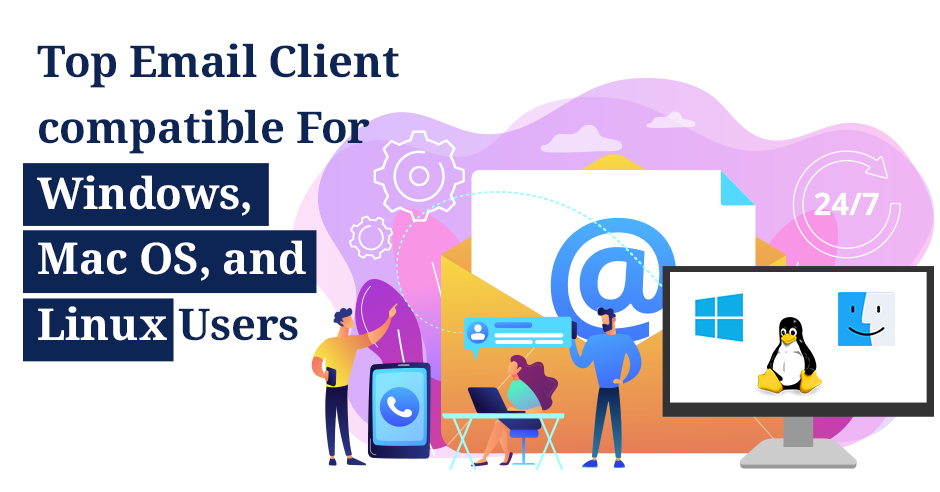 An e-mail client is a program that types, sends, and receives email. You probably use an email service yourself, such as Gmail or Hotmail. A Top email client is more versatile as multiple email accounts can be managed. In addition, these email client services are easily accessible via websites or handy apps for your smartphone or tablet. And the storage limit is considerably larger than with e-mail addresses that you get from your provider. An email client is a front-end computer program used to manage e-mail. Also, they can be stored on both the server and client-side. The formats for mailboxes have included Maildir and mbox. Here below we have listed the best and Top email clients of cross-platform software that make your workspace easy and compatible with a wide range of plug-ins and add-ons.
Advantages of the email client
The big advantage is that you can log in from any computer, tablet, or smartphone (with internet access) to view your emails. Moreover, you have a large "mailbox" of a few gigabytes available on the email server, so you do not run the risk of loss in the event of a computer crash.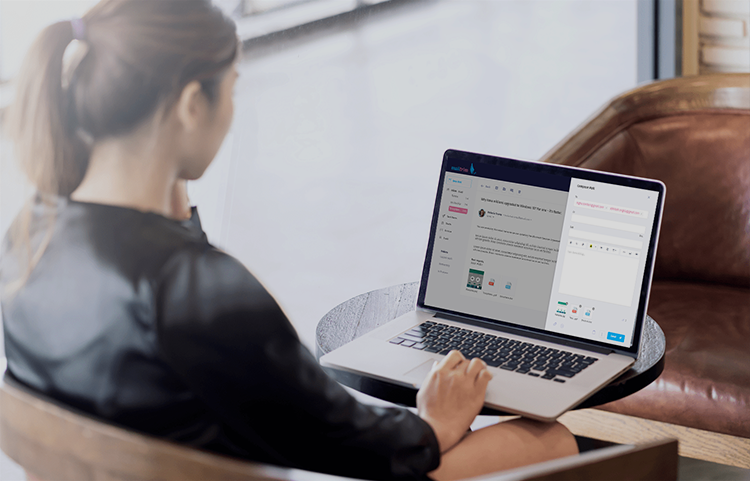 Supported Platforms: Windows, macOS, and Linux
The Mail Trim is an upcoming and branding kid in Email Management software. Mailtrim is POP3 and IMAP4 capable and also supports SMTP, SSL, and many more. This fully-functional with the best desktop email client and it lets users integrate their CRM to communicate with clients. Don't be fooled by the simple and rather unspectacular design of MailTrim. The program is not only very clear and easy to use, but it also offers some practical additional functions, such as attaching any file with drag and drop option, programmable filter function of mails. A mass mail function can be used in the mail service not only for private users but also for marketing purposes. The Mailtrim Business allows teams of any size to experience great collaboration from anywhere and anytime.
Key Features of Mailtrim
Intelligent Inbox

Digital Email Signature

Easy Integrations

Spam Flagging

Customized Display
Advantages of Mailtrim
Free for multiple users.

Clear and easy to understand the interface.

One-step search box to find and filter mails.

Fits every size.
Disadvantages of Mailtrim
As of now, there is

no result for disadvantage

. It means for every issue the team responds very quickly when the client reaches through customer support. Their working process makes it fast and responsive to fix any kind of problem.
Thunderbird
Supported Platforms: Windows, Mac, and Linux.
The Mozilla Thunderbird - Top email client is number two on the market and is used by individuals and companies as an Outlook alternative. Also, its email client for Windows, Mac, and Linux. Big advantage: Thunderbird is open source-based and can be downloaded free of charge. The basic version includes the basic functions, encryption is possible, as is the management of RSS feeds. Setup and synchronization of the e-mail account are quick and easy. From large e-mail providers such as Gmail or GMX, you only have to enter the email address and password and Thunderbird does the rest. S / MIME encryption is part of the range of functions. With Thunderbird, you can manage several email addresses at the same time if necessary.
Key Features of Thunderbird:
Mail account setup wizard

Attachment Reminder

Search tool & Junk filter toolbar

Cross-platform support

Customized displays & Themes.
Advantages of Thunderbird:
Clear structure

Practical functions for message management and categorization

Can be individually expanded with numerous add-ons
Disadvantages of Thunderbird:
With greater demand and utilization of the possibilities, it quickly becomes confusing.

Add-ons need to be updated separately
SeaMonkey
Supported Platform: Windows, Mac, and Linux
SeaMonkey is a mail client, browser, chatting client, and HTML editor in one and email client for Linux, Mac, and Windows as mentioned above. The SeaMonkey software is more than a mail client; it also has a browser, chatting client, and HTML editor. The development of the Mozilla community goes back to the once widespread browser Netscape and the Communicator.
Mails and messages for the newsgroup run through an integrated spam filter, which you can specially train. For a better overview, the messages can be highlighted in color and flexibly sorted. S / MIME encryption is part of the equipment for sending emails securely, which is particularly important in the corporate environment. The integration of the Active Directory is also possible. Like Thunderbird, SeaMonkey supports managing multiple email addresses at the same time.
Key Features of SeaMonkey:
Tabbed browsing

Pop-up blockers

Access to countless add-ons

Newsgroup reader
Advantages of SeaMonkey:
High-security standards

Very extensive complete office package

Many important functions for the corporate environment, e.g. B. digital signature or receipt
Disadvantages of SeaMonkey
Irregular updates

Manual activation of several functions necessary
eM-Client
Supported Platforms: MacOS, Windows
The eM-Client is attractively designed and can be operated intuitively and it is a good alternative for Windows. The optically appealing and easy-to-use interface of the modern eM Client is particularly popular. Sending encrypted emails is now even easier thanks to the PGP encryption support. Gmail users can send automatic "out of office" messages. The eM Client is suitable for private users and business use. Appointment and contact management functions are on board, as is an instant messenger. However, unlimited use is only free for private users. If you want to manage more than two accounts, you should purchase the Pro version of the software.
Key Features of eM-Client
Instant translation for all messages

Watch for replies and Snooze function

Search within attached documents

Automatic back-up tool
Advantages of eM-Client
High-security standards

Lots of synchronization features

Smooth data import

Touch support
Disadvantages of eM-Client
The free version only for up to two accounts and only for private use
Front
Supported platforms: Android, iOS, Web, macOS, Windows
The front is an extraordinary email customer for proficient use. It unites the amazing work process of an assistance work area and the personalization of an email together. Prior to downloading Front, you can likewise demand a free demo to check whether it is the thing that you were searching for. With Front, you can manage Email over-burden by transforming messages into activities. You can likewise set customized standards to make the work process more easy and efficient.
Key Features of Front:
Social Media Integration.

Real-time notifications.

Collaborative workspace.

Autoresponder

Auto remainder
Advantages of Front:
Centralized Communication

Multi-Channel Management

Automatic reminders

Custom Integration

Flexible Pricing
MailSpring
Supported Platforms: Windows, macOS, Linux.
With Mailspring, a new cross-platform mailing client for Windows, macOS, and Linux is launched. The Outlook alternative wants to score with a tidy look, touch support, and a quick search. It also offers support for the usual mailing services such as Gmail, G Suite, Office 365, Yahoo, iCloud, FastMail, and IMAP / SMTP. Exchange accounts, however, are not currently supported. In the free version, up to four accounts can be set up with a common inbox. In addition, known shortcuts from Outlook, Gmail, Inbox, or Apple Mail are available as desired. The keyboard shortcuts can also be customized.
Key Features of MailSpring
Multiple accounts at one place

Touch and gesture support

Advanced shortcuts

Fast search toolbar
Advantages of MailSpring
Localized into 9 languages

Gmail search Query

Auto Spell and Grammar check tool.

Free Download up to the limit.
Disadvantages of Mailspring
In the free version, only a few features are enabled, to get access to multiple features has to go for the Pro version.
Conclusion
So there are very good and free alternatives to email clients for all platforms including Windows,macOS, Linux. The selection presented convicts with extensive functions and high security. Which program do you like best or are you already excited about another program? Try out the best alternatives for efficient top email client management right away!