The 10 Best Outlook Alternatives in 2022
3 years ago
By Jeksani Mounika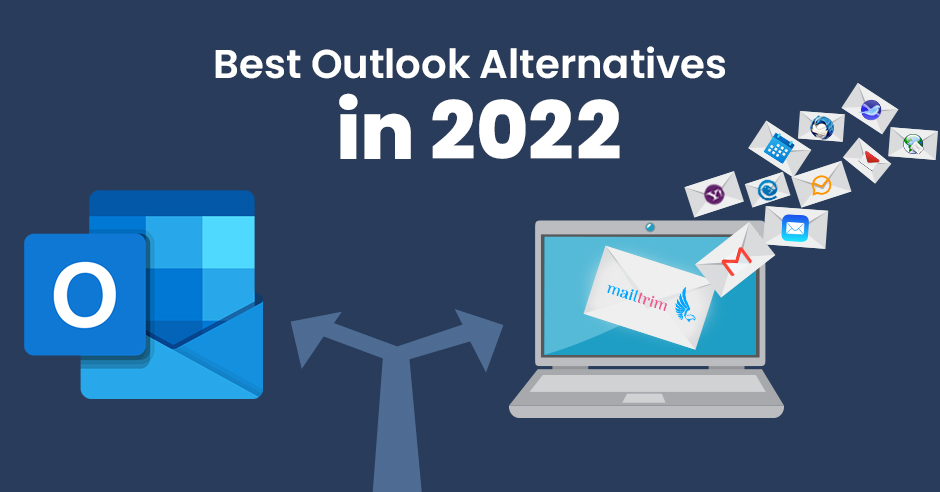 Regardless of whether it's private or business: Unless it already happens automatically, Outlook is usually one of the first applications that the user starts after the computer has started up. The tool from Microsoft combines the functions of an email client, calendar and task planner under one surface and has therefore become one of the most important programs for daily business for nothing.
Why an Outlook?
Outlook is popular software for sending, receiving, and managing emails and contacts. The program also has a practical calendar function that you can use to organize appointments and tasks. Operation is simple and clear, you can manage several email accounts in parallel and, as part of the Office suite, the mail client is compatible with numerous other software solutions, both under Windows and Mac and it's easy to find training for Microsoft software if you're a beginner.
In the business sector in particular, Outlook is still number one as an email program. However, this convenience also has its price: Private users pay at least 6000 bucks per year for Office 365 . As a company, you already have to spend 9000 to 10000 per user per year. If that is too expensive for you and is looking for a replacement for Outlook you will fortunately find some good mail programs.
Best Alternatives to Outlook
Microsoft Outlook is one of the most widely used free email programs. But with a few updates, the layout and functions have been changed a little. Let's see below the Best Outlook alternatives for the computer and smartphones.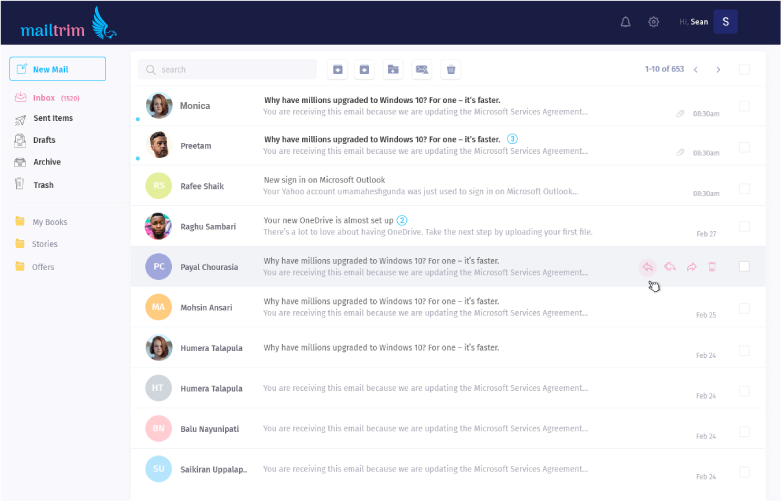 MailTrim has top-notch features and outstanding app integrations!. You won't forget to attach files because the attachment reminder feature reminds you before sending the email. Also, it runs on both IMAP and POP3 servers. Being its best alternative for outlook email client does not keep any IP logs. This can be used on many small, medium, and large companies. When you switch to the premium feature of it will include more options such as email accounts setup, email speed reader, and attachment quick preview.
Over a billion people use the Outlook alternative Google Mail or Gmail. This is mainly due to the large storage space that Google makes available to its users for free. Gmail conveys good spam filtering and can be accessed both via a regular email client and via the web browser. The IMAP and POP3 protocols, which you can select in the settings, are available via an email client. And Gmail also works in all standard web browsers, both on the desktop email clients in-home computer and on mobile devices such as tablets and smartphones. A big plus point of the free Gmail email program is the extensive search. You can search the entire message text, but also individual fields such as sender, label, or subject. Gmail is one of the most mature Outlook alternatives.
Yahoo is one of the best and known alternatives for Outlook. It has launched its webmail service Yahoo! Mail has been thoroughly overhauled many times since its creation in 1997. The minimalist design is clear, easy to personalize and it is not difficult to adjust the settings. Yahoo! Mail has a calendar, contacts, and a chat function, as well as a number of useful features such as Dropbox and Flickr integration. A striking feature is the extremely large storage limit of 1000 GB (1 TB).
Even if Outlook itself is provided by Microsoft, you will find an alternative in Windows Mail. Mail has been on every Windows PC since Windows 8. All you have to do is set up your email account there. Then you can access all mail from your computer. Windows Mail gives you all of the basic features of email management software. Also, has software called Calendar. Here you can plan your appointments. So you also have an alternative Outlook for this topic.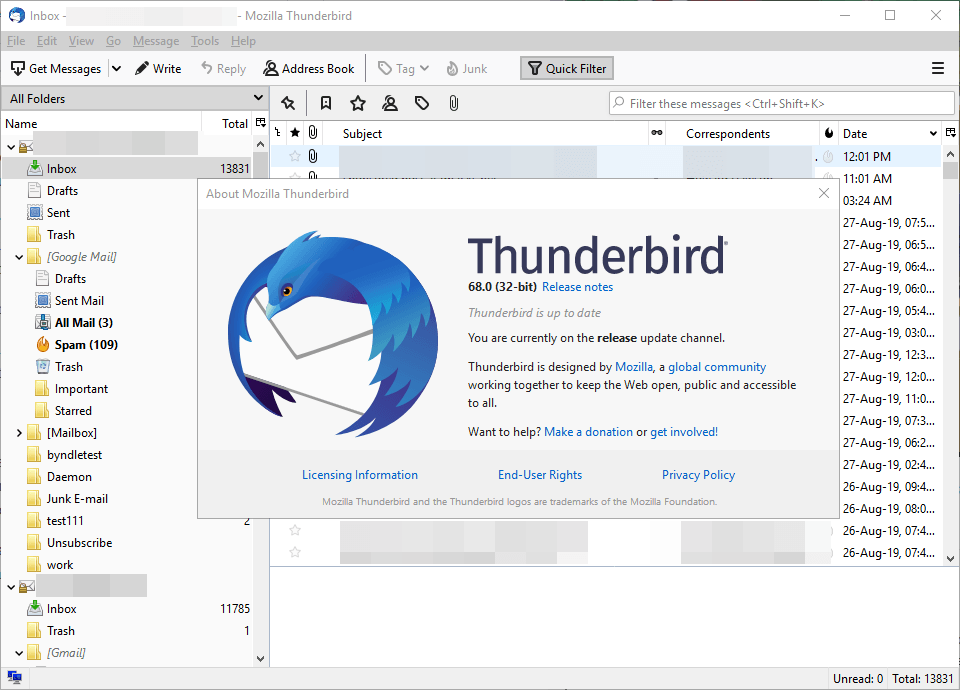 The open-source tool Thunderbird is a real alternative to the Outlook client. It not only offers many functions but also a technically new basis. Tabs provide an overview, and the powerful search system scours through large volumes of mail. Not all add-ons have been compatible since version 60, but there are still enough options to expand Thunderbird. The developers strive to deliver not only bug fixes with each update, but also features that save users time. Recently, for example, there was an improved management of file attachments or easier sending of invitations directly from the calendar.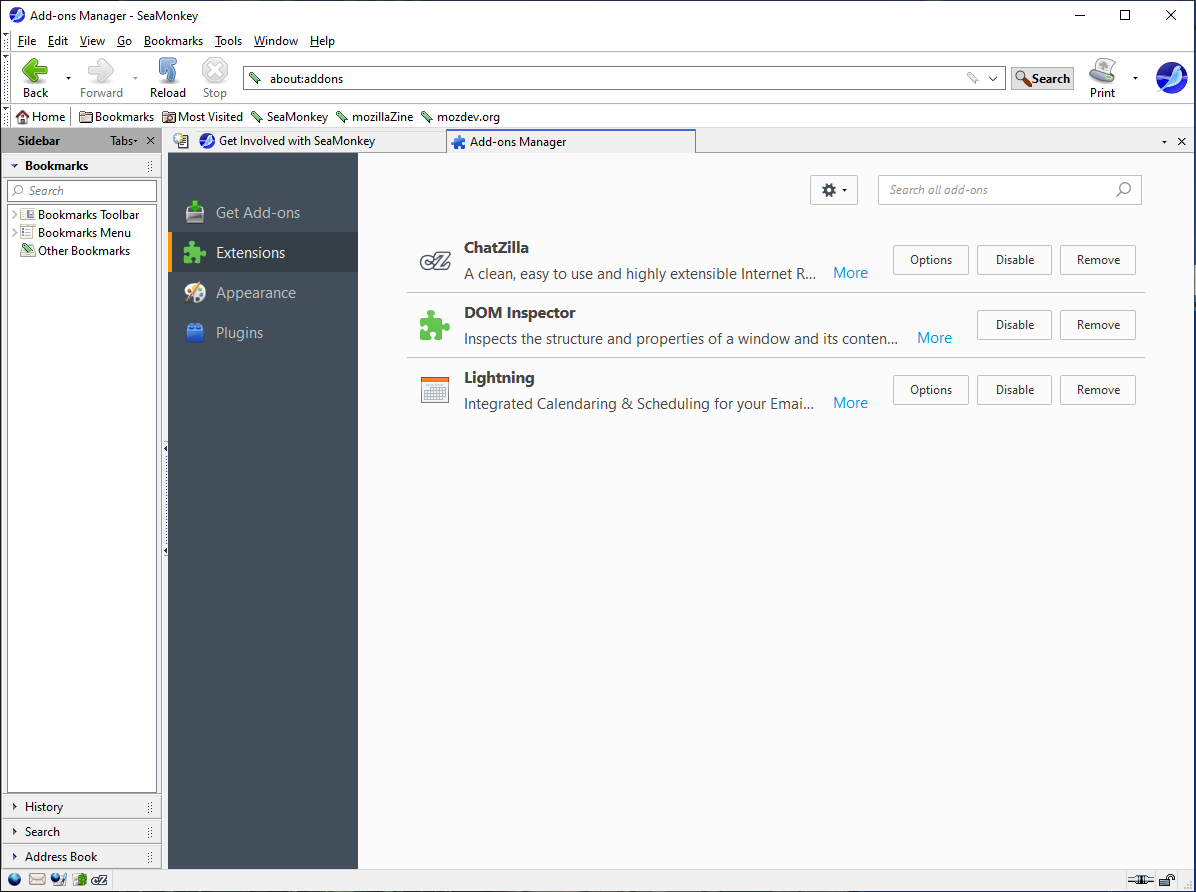 SeaMonkey is also an app from Mozilla. However, it has a much larger range of functions than Thunderbird, which is mainly designed for mail and calendar management. SeaMonkey, on the other hand, is an entire software suite. You can access an Internet browser and an email program free of charge, but you also have a newsgroup client, IRC chat and feed reader at your disposal. The software can also be adapted and supplemented with add-ons. At first glance, Seamonkey looks a bit getting used to. After all, it is also a browser. Click on the letter symbol at the bottom left to get to your inbox.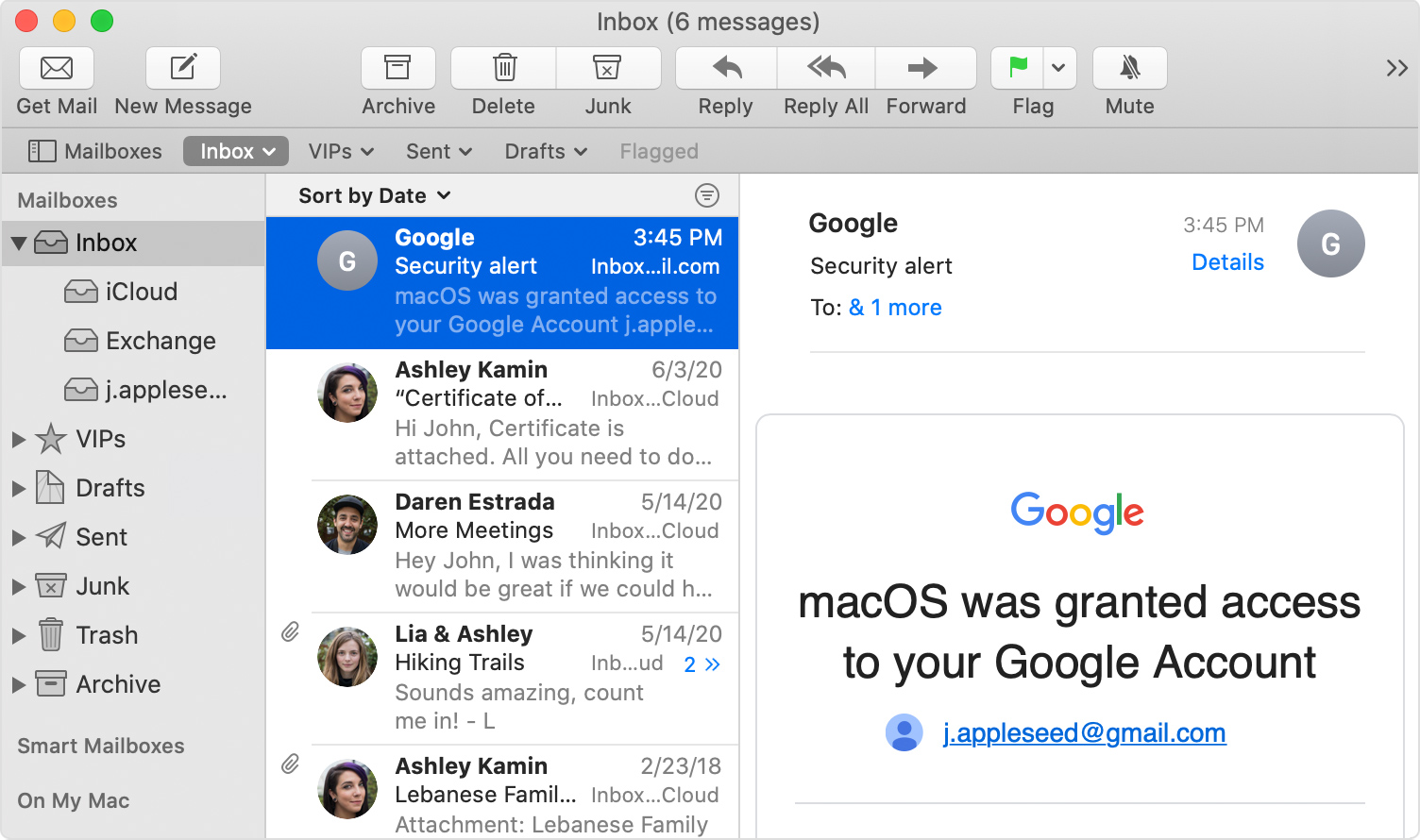 The Apple Mail email program comes standard with Mac OS X. Here you can use a uniform inbox for all your email addresses. Like Thunderbird and Windows Mail, you can add multiple email accounts, including Exchange, iCloud and Gmail. The program is fast and clear. It offers ample options to organize and sort your mail via filters, flags, and smart mailboxes. The app is provided free of charge by Apple. It does not contain a calendar. But you can use the standard calendar under macOS. This is then synchronized directly with your other Apple devices (if available).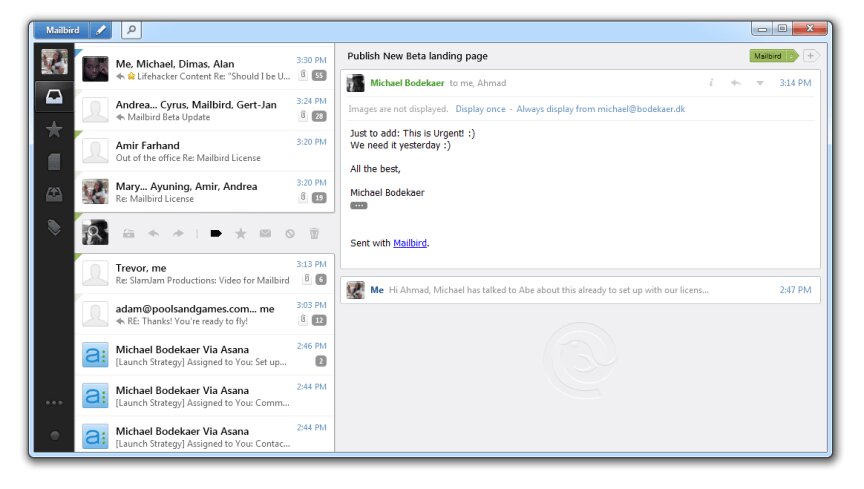 Mailbird is a paid email program. Annual tariffs or one-off payments can be selected as required. The one-time costs are 6000 INR. The annual price is between around 2 to 4 euros - depending on the package. However, there is also a free trial version so that you can try Mailbird without any obligations. The range of functions here includes a uniform inbox for your emails, the integration of other apps such as Google Calendar or Facebook, various search functions, and a translation tool.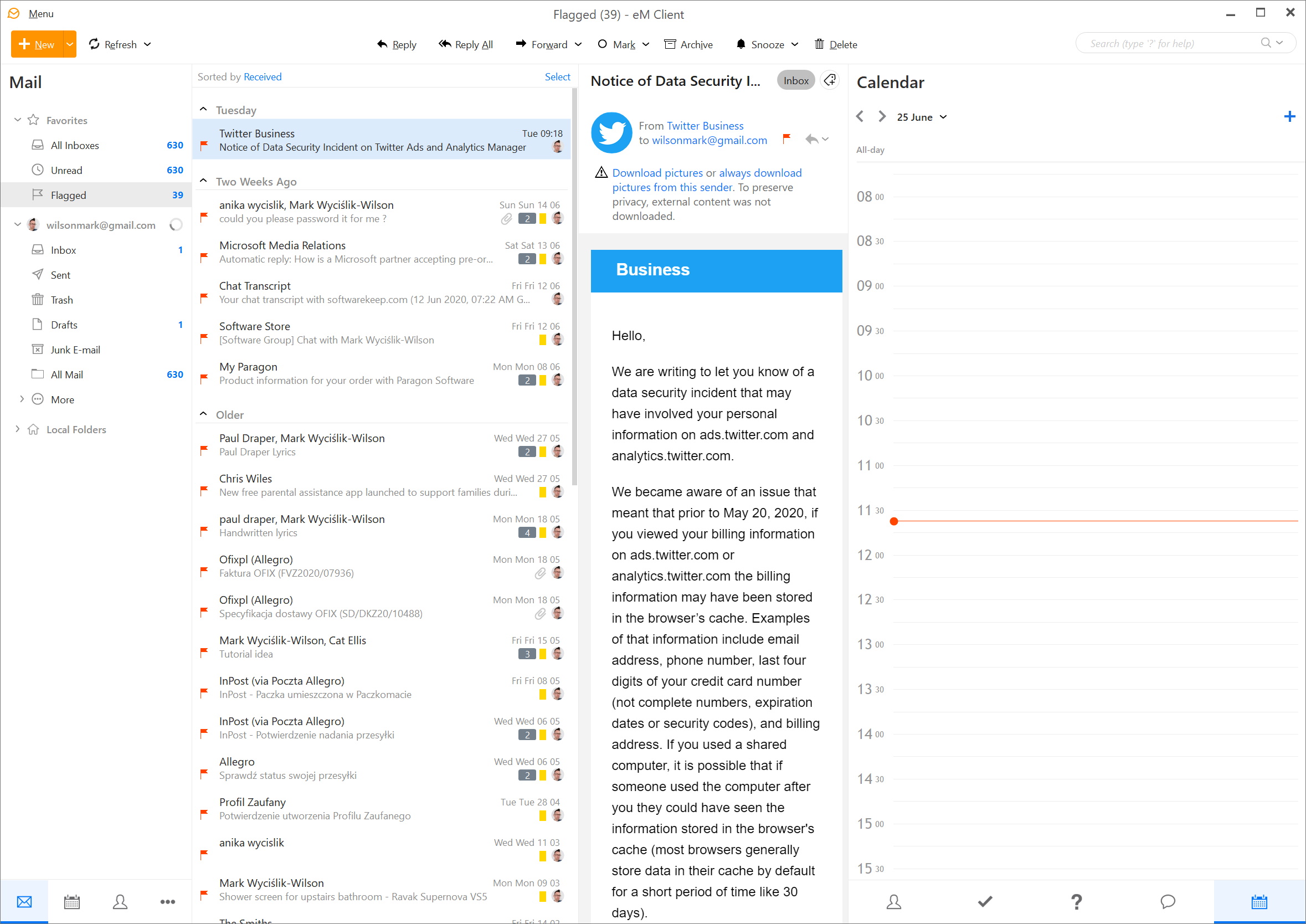 The Outlook alternatives eM Client is an interesting program that on the one hand does its homework and on the other hand scores with practical extras: In addition to mail, calendar and appointment functions, the client also integrates chats via Facebook, Skype and Google Talk. Thanks to its comprehensive synchronization and import function to Google Mail, Outlook and Thunderbird, eM-Client lures users to make the switch easily. Recently there is also a dark theme, which makes the successful look an eye-catcher. The paid version costs around 4000 INR around for one user and scores with VIP support as well as support for more than two mail accounts set up in parallel.
OE Classic is a clear email client that can be used to manage multiple electronic mailboxes. The name is deliberately reminiscent of the standard mail program of older Windows versions - Outlook Express. This client is no longer available under Windows 10, nor is its successor Windows Live Mail. Instead, the mail app is the standard software - but with a limited range of functions. OE Classic provides a remedy and, in addition to essential mail functions, offers numerous extras. Note: Some features are reserved for the paid Pro version. OE Classic Pro, for example, enables various user accounts to be created.
Opera Mail is now available as separate email software for Windows and Mac. Lean, easy to use, clear, and configurable according to your requirements - Opera Mail makes reading, filtering, and labeling of messages extremely simple. The use of so-called threads simplifies e-mail organization. Threads make it easier to get context and look at emails with the same correspondence. You can sort the messages quickly using labels and have them sorted automatically using simple rules. The integrated RSS feed reader can provide information about news. Opera Mail is available for Windows, Mac, Linux and as a portable version for the USB stick for download.
Outlook alternatives for smartphones
There are also alternatives for the Outlook smartphone app. In most cases, email providers also offer their own apps for smartphones. For example, you can download the "Gmail'' app or the "GMX Mail app" directly from the Playstore onto your smartphone or iPhone. In addition, many devices have pre-installed mail management apps. On the iPhone, it's an app called "Mail". Android devices have either "Gmail'' or an app called "Mail". There you can link your email account and then access it directly from your smartphone.
The calendar function of Outlook can also be replaced on the mobile phone. Here you can access preinstalled apps again. Every iPhone already has its own calendar. You can simply use the Google Calendar app for this on Android devices.
Conclusion:
So there are very good, free alternatives to Microsoft Outlook for email management. The selection presented convicts with extensive functions and high security. Which program do you like best or are you already excited about another program? Try out the one more best Outlook alternative Mailtrim for efficient email management right away!