how to pick the best email software for your business in 2022
2 years ago
By Jeksani Mounika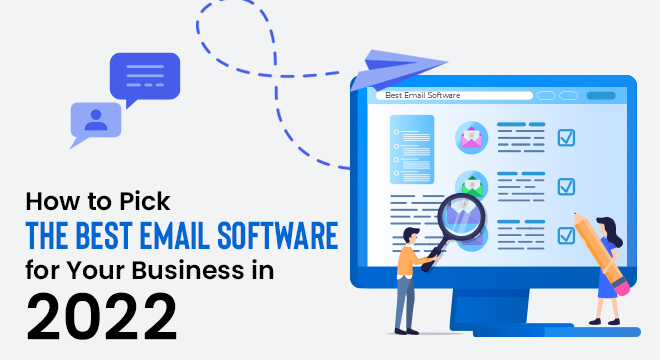 "Leveraging emerging technologies and tools for your business is staying top of your customer's mind".
Not so long ago, e-mail, the oldest form of communication is considered only for sending and receiving emails. However, on the flip side, it has a myriad of benefits apart from that.
Courtesy of email software, the ability to safeguard crucial business data has made impeccable than ever. And managing emails has become more personalized with outstanding features that an email software offer.
First things first. Let us dig deep to know the fundamentals and the key essentials such as cost, reliability, integrations, onboarding, etc. before choosing the best email software for your company.
What is email software?
In a nutshell, it's an application that is designed to send, receive, and manage emails. They can be installed or hosted over the web. The significance of email software came to the limelight with Gmail, Microsoft's Outlook, Yahoo! Mail, Apple Mail, Hotmail, and other email clients.
Why businesses go for email software?
Businesses can manage multiple email accounts within a unified inbox. Read on to know more of the benefits email clients offer.
• Ease of use: The email clients are easy to use and businesses can manage both emails and contacts.
• Unified inbox: Multiple email accounts can be managed in a single inbox without the need of shifting to other accounts.
• Authority: Businesses can have full control over emails so that they can protect sensitive business data and files.
• Accessibility: An email client can be accessed from anywhere from any device.
• Integration with other apps: All the latest email software has integrations with third-party apps and email collaboration tools such as calendars, address books, to-do lists, Customer Relationship Management (CRM), etc.
• Reliability: No third-party can have access to the emails. All emails can be sent to the concerned persons' inbox. You never miss a single email.
• Automated Response Handling: It is another feature that provides automated responses thus saves time.
• Add-ons: Other features such as scheduling, snoozing, templates, in-line replies, attachment search, contact management, etc. will be an added value that makes your email management more outstanding.
Let us glance at some statistics that unveils the demand of email software for businesses.
Recently, in May, the Litmus Email Analytics has revealed the list of top email clients that are giving huge market share. They tracked 1.4 billion opens from different environments (mobile, desktop, webmail). You can get an updated report as these statistics are updated monthly.
That's big!
Why wait?. Reach your customers and engage with them in a fly and hit the ROI on the go by adopting an email client that suits your business needs.
How to pick the best email software for business?
Here are the top 5 email clients that can help your business. Choose the right one that is tailored to your requirements. Read on to know them and the features they offer in one look.
Pricing: Freemium
Encryption support: PGP
Available for: Windows and macOS
Unique features: Respond later, Flagging, Email signature, Advanced filters, Folder management, Add/Manage accounts.
Integrations: CRM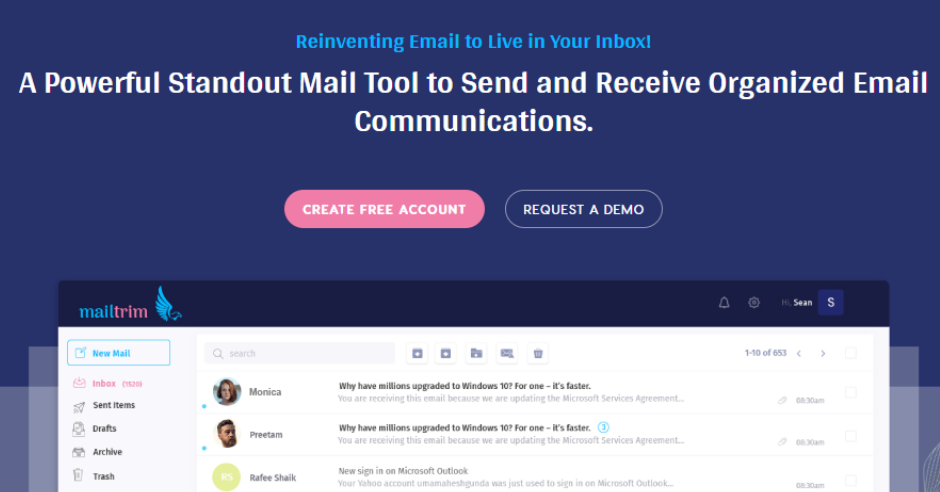 MailTrim is a simple and full-featured email client with a seamless UI that allows users to send/receive/manage emails in a fly. They can mark any number of emails as 'respond later' and view them later. They can filter marked emails and manage the folders seamlessly. The end-to-end PGP encryption allows clients to secure their confidential data and emails.
Also, the users can create rules based on their requirements and streamline the workflow along with the basic features such as contacts management, calendar, task, etc. The emails from Gmail, Outlook, Yahoo can be synchronized efficiently.
This affordable email collaboration tool is supported by the app/desktop/browser and suitable for Businesses, SMEs, Organizations, Educational institutions, and Industries.
Pricing: Freemium
Unique features: Calendar, task, chat, contacts management
Available for: Windows and macOS
Encryption support: PGP or S/MIME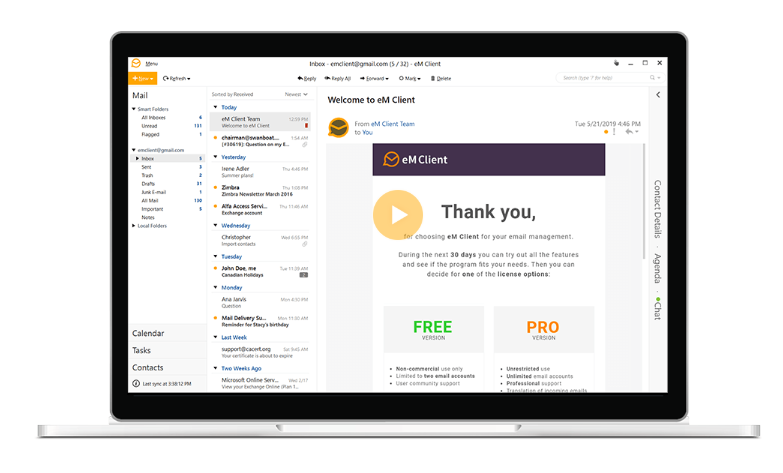 Its comprehensive contact management allows the users to view the contacts by category and the exhaustive data fields for each contact. You can merge and deduplicate the contacts and the contacts can be synchronized with Gmail, iCloud, Exchange, Office 365, and Outlook. You can migrate Gmail messages to any other email client.
Moreover, users can avail of additional features such as delayed send, automatic translation, Language translator, and encryption. Chat integration allows users to communicate with their contacts without composing a mail. For each contact, they can see the communication and attachment history.
With Calendar, you can manage appointments and customize the views and interface. And all emails and data can be backed up. It supports only 2 mail accounts under the free subscription. To access unlimited email accounts, users need to subscribe to Premium.
Pricing: Freemium
Unique features: Calender, Unified inbox, Speed reader, reminders.
Available for: Windows
Integration: Dropbox, Evernote, Google Docs, etc.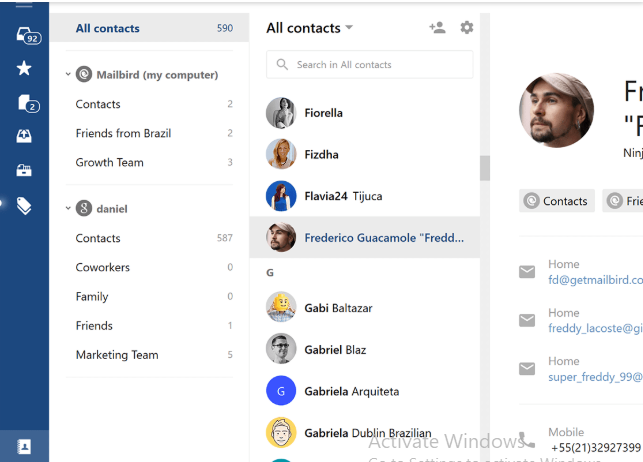 This simple yet effective email management tool comes with built-in apps Dropbox, WhatsApp, Facebook, and Twitter, etc.
The unique feature of this software is managing multiple accounts at a time for all campaigns. Users can integrate calendar apps and customize the view.
It can sync with IMAP or POP email service. It has a unified inbox and the free version supports up to 3 emails. In Premium, users can get access to unlimited emails, avail of snooze emails, Speed reader for emails, and set up reminders. Also, you can have a quick preview for email attachments.
Pricing: Freemium
Unique features: Undo sent emails, pre-built template and theme support, custom signature, insights.
Available for: Windows, Mac, Linux.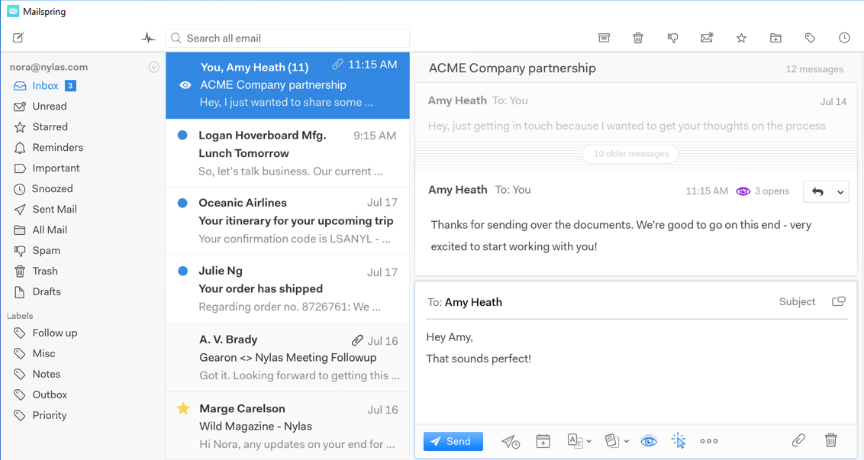 It is a secured email for teams and can be sync with Gmail, Office 365, Yahoo, iCloud, FastMail, and IMAP. The free version allows accessing unlimited email accounts. You can undo the emails after a set time, track links, and get read receipts. It has a unified inbox, pre-built themes, layouts, dark mode, emojis, quick search, advanced shortcuts, and touch & gesture support.
The premium allows you to use various templates, schedule and snooze emails, set reminders, and share email threads via web links. Emails can be localized into 9 languages.
Pricing: Free
Encryption support: PGP
Available for: Windows, Mac, Linux.
Unique features: Dark theme, Autoresponse, phishing protection, Automated updates, Advanced filters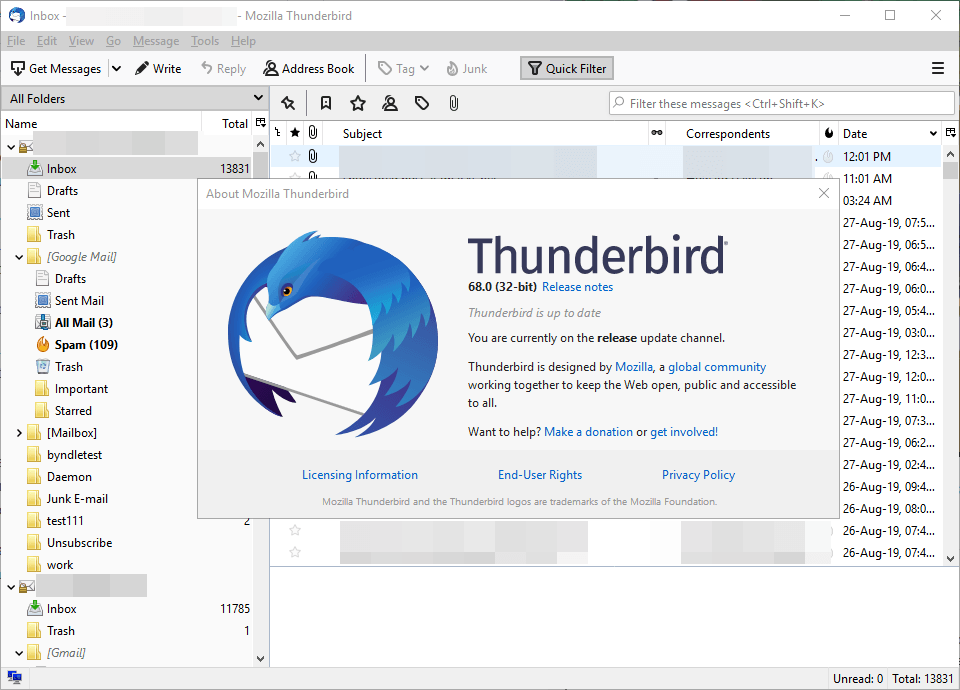 This email management software for business has various features like auto-responding to emails, archive messages, quick filter toolbar, search tools, automated update, phishing protection, one-click address book, attachment reminder, etc.
Large files can be stored and shared as a link instead of attachment thus it saves time. It supports over 40 languages. A smart folder is another feature that lets you manage multiple email accounts by combining inbox, sent, or archive folders.
Wrapping Up:
Currently, many big giants are leveraging various email clients to communicate with their clients and promote their business on the go. It's time for you to adopt one of the best email software mentioned above to manage email accounts, engage with your clients like never before, and stand tall in the business arena.
Stay tuned to our site as we keep you update on the latest email software.