16 Best Email Productivity Tools for Your Remote Team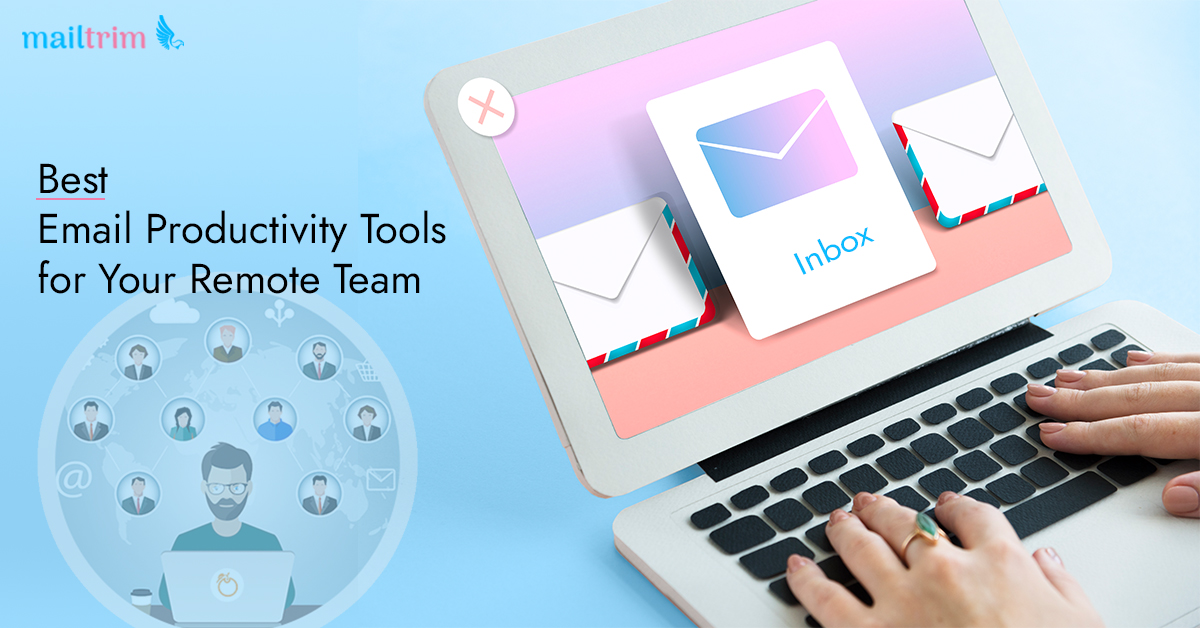 Remote working is the future of the workplace.
There are many reasons both employers and employees prefer working remotely. Many predict it is how the world will work in the future, forecasting that at least 70% of the workforce will work remotely. After the Pandemic, remote working has become a trend that will continue.
It gives freedom and flexibility

It saves time to commute and reduces absenteeism

Cost saving

Work-life balance

Better talent pool

Increased productivity tracking
A business firm can consider working remotely as the best alternative as it reduces a lot of money; however, you should have the basic requirements to go remote. Arm yourself with necessary infrastructure facilities like email productivity apps that coordinate the team well. Listed are some of the helpful email productivity tools you should make use of.
What are productivity tools?
Whether you are working remotely or not, how smart you are in communicating with your prospects holds the key. There are two important grey areas a business should be cautious of.
Not communicating or communicating late with prospects.

Your professionals spend too much time managing email software applications like Gmail for drafting and sorting.
To overcome these difficulties, we have many free productivity apps that can be added to your operating system that assist you in auto-run repeated actions, making analyses, and increasing the team's efficiency. You can later opt for the paid version that gives you more features.
Best email productivity apps
Email productivity apps have developed many AI-supportive tools that support managing your emails. Today we will look into 15 email productivity tools, paid and free tools, that can make a difference to your small business.

Mailtrim:
Organize your business communication to a pre-destined inbox with Mailtrim. You define the rules where you want to route the sender's email. Discover everything quickly! Get this secure free email client with an intuitive user interface if you use it for personal and professional purposes. We know that businesses and emails are interdependent. Allow your teams to download Mailtrim's desktop application so that email communications will begin automatically. Get Mailtrim on your Windows, Linux, and Mac.
Highlights:
Intuitive user-friendly interface.

The Best free email client

Seamlessly fits monitors of every size.

Enhance your emailing experience with the features of Categorise, Respond Later, Smart Search, Create Rules, and more.
Clean email:
Clean email is a cloud-based Email productivity app with incredible automation support that sorts incoming mails according to importance. It takes a lot of time to arrange the emails according to the content and deletes the unwanted. You can set your own rules to sort according to your priority. It works on Google, Microsoft Outlook, and Yahoo.
Highlights
This Email productivity app is useful for
Email filtering and folder management.

Bulk email management.

Email cleanup.

It is also affordable and user-friendly.
Evernote:
Evernote is a cloud-based Email productivity apps that help users to capture and organize notes. It has many useful features that any professional must pay attention to. It allows you to capture everything from text to pictures and even audio files and arrange them neatly. It is the productivity apps for macOS, Chrome OS, Android, iOS, etc.
Highlights
It helps to:
Create, store, and organize notes, ideas, or pictures from a centralized location.

Web clipping facility to save important web pages, images, or text.

Can create checklists and issue reminders.

Can attach PDF, images as well as audio/video files.




Mailbird:
If you are looking for all-in-one email productivity tools to manage your emails, you can opt for Mailbird. It allows you to visit your mail and manage it from another application. Listed below are some of the key features of Mailbird.
Email productivity features of Mailbird
Highlights
Unified inbox

Customize your layout:

Application Integration.

Snooze out non-relevant emails or messages.

Speed reader facility that gives the user the benefit of comprehending the contents fast.

Multi-language support of 17 important languages.
Shift:
If you have to use too many browser tabs simultaneously and constantly switch accounts, you should try Shift. The Shift gives you easy access to over 1200 applications available now. It combines with Mac, Windows, and Linux, helping you integrate all required applications on one page. That saves time in scrolling through desktops, jumping between applications, or having too many log-in or log-out requirements.
Highlights
Access multiple Google or Microsoft accounts simultaneously.

Connect with all your applications or extensions.

Find anything across your account.

Collaborate well with your team members.
Email analytics:
Email analytics is a valuable Email productivity apps for online businesses. It helps to categorize their emails and understand market trends. When the mail volume is very high, email analytics becomes handy. AI support allows you to organize emails and give them back in easy and understandable charts and diagrams. It also helps to keep track of emails.
Highlights:
Helps to track
The changing trends in the market and user behavior with audience demographics.

Tracks conversion rates.

It helps understand how comfortable your user is while handling your website.
Boomerang:
AI-supported Boomerang is a powerful email productivity tools to schedule meetings or training and communicate the same to multiple participants. It works well with Google Chrome, Mozilla Firefox, Microsoft Edge, Gmail, etc. it augments and sends emails at a later time. It gives the user hassle-free and automated meetings with prompt reminders at regular intervals. As an email productivity tools, It also helps track emails and reminds you of important emails that require your reply.
Highlights
Can schedule emails to be sent at a later time.

Gives reminders regarding follow-up, replies, and meetings.

It tracks an email when it is opened and gives you real-time notifications.

As email management software, boomerang helps achieve messages, snoozing them and suggesting you auto-reply based on the content of the emails received.

Achieving messages, snoozing them, and all kinds of It can suggest you auto-reply to the emails received based on the content.
Hive:
Hive is an essential email productivity apps for event management companies. Hive is easy to use SQL-type interface email productivity tools helping companies to gain more control of their data. It is helpful for those who have an SQL background in data analysis. The user will have greater control over data and marketing strategy. If you are looking for a more robust email solution, Hive will be the best product for you. It is scalable, can handle a large amount of data simultaneously, and is cost-effective. It is also open source, which means it is a free productivity plan to use and can run and be installed on most of the hardware.
Highlights
Integrating Hive into your system is also very easy.

It integrates well with big data tools like Apache, Spark, or HBase, providing a unified platform for big data analysis.
Sendx:
Sendx is an intuitive and affordable email productivity tools that help you market your products and run campaigns and automated marketing process. It has a feature-rich email marketing support system that helps users send unlimited email campaigns, build an email list, drag and drop editor, email automation and sequences, etc.
Highlights:
This email productivity tools is stuffed with a range of email automation features.

User-friendly drag-and-drop facility for customizing email templates.

Analytics support to email campaigns.

It can integrate with the whole range of popular platforms such as Shopify, WordPress Magento, etc.
Avoma:
Avoma is your all-in-one email productivity tools for sales and customer management platform designed to schedule a meeting, share the agenda, and no-show reminders, automatically record the meeting and its transcription, and provide snippets, comments, and playlists. It helps improve customer interactions and manage productivity.
Highlights
It helps to create better customer engagement.

Sales Analytics.

Help the sales team to prioritize and track their work.

Ensures meeting sales goals.

Integrates well with CRMs like Salesforce, Hubspot, Pipedive, etc.
Yesware:
Sales and marketing people mainly use Yesware. It mainly tracks and gives you the status of the mail sent. The sales team will send a huge volume of emails to the prospects. Yesware helps to understand the actions of the prospects. It helps in designing the plan of action.
Through Yesware, You will be getting real-time notifications giving you the best email productivity. Using this, you can follow up who are interested and leave those who do not wish to follow up.
Highlights
It can integrate with Microsoft or Gmail.

Notifies you when the recipient opens, clicks the link provided, or opens the attachment.

Saves a lot of time by giving better follow-ups for good prospects and stop disturbing those who are not interested.
Gmelius:
Gmelius is a team collaboration and email management tool that gives you real-time visibility to the workload, organizes your emails fast, and flawless collaboration that integrates well with Gmail. Through Gmelius, you have the facility of a shared inbox, team task management, and email tracking. You can also customize email templates through Gmelius.
Highlights
Helps the team to streamline their email workflow and improve productivity management.

The shared inbox for the team to manage.

Better email tracking.

Provides a range of customizable and ready-to-use templates.

It supports better team collaboration.
Zapier:
Zapier is the best productivity manager for you, which helps you to connect with various web applications and automate various repetitive tasks. It links the calendar with email, thus helping send reminders. You can fix the interval, and the tool takes the task without any intervention. It supports more than 2000 applications available.
Highlights
Save email attachments to Google Drive.

Create Trello Cards from the starred emails in your email inbox.

Customizable workflow.

Multiple-step Zaps help to automate complex processes that require multiple applications.

Better collaboration among the team.
Doodle:
Doodle is a scheduling and appointment management application that helps you to simplify the tedious process of arranging a meeting suiting the convenience of the parties involved. Doodle is the fastest and easiest
way of scheduling anything. It helps to conduct polls and send invites. Recipients can choose a date and time convenient for them.
Doodle is the perfect application for a variety of purposes and a variety of people. If you are an individual, team, or organization, Doodle is suited for personal appointments and event and productivity planning.
Highlights
Easy scheduling.

Availability check.

Conduct polls.

Multi-user support.

Integrating well with popular email tools like Google, Microsoft, and Apple calendars.
Clearbit Connect:
Another top tool to improve email productivity is by using Clearbit connect. Clearbit is a Gmail add-on platform that helps users to find and verify the email address of prospects and leads. It integrates a variety of tools, such as CRM or automation platforms, and enhances the email prospecting and research process.
It also offers real-time email verification, avoiding sending emails to invalid or wrong addresses. With this tool, finding any email address you want is just a matter of a few seconds.
Highlights
Intelligent thinking.

Real-time email verification.

Easy to assess.
Mailtract:
Just as the name suggests, Mailtrack is an email management software that lets you keep track of your emails. It provides complete
information on when your email is delivered to the recipient, when the recipient opened it, and how many times they opened this mail.
It works by adding a small tracking image to the email that tells the user the history of the email.
It also gives you a fair idea of the recipient's location and time spent on this particular mail. This tool helps the sales and marketing team evaluate a prospect's quality by understanding how much they are interested in your products.
Highlights
Real-time email tracking with notifications.

Detailed analytics support.

Daily reports.

Active email indicator.

User-friendly.

Affordable price.
Email productivity tips:
Even though the applications mentioned above can help a lot in productivity management, some email productivity tips help you to perform well. You will be getting emails all the time, and handling them on the spot is impossible as it will affect other responsibilities.
Create a timetable and check the emails at regular intervals. Listed below are some other tips one should follow.
Keep your email window open all day.

Flip over to email only when the mail notification is popped up.

Write back as early as possible if the mail content is asking for some information. Try to create and use inbuilt templates to avoid time.

Learn email shortcuts.

Follow the two-minute rule.

Schedule emails that can wait, like confirmation mail, acknowledgment mail, etc.
Moreover, as a team, ensure all others are on the same page. It is essential for an organization that loves working remotely.
Daily meetings, taking feedback, and constant follow-ups will help to work remotely more professionally and reliably.