How Can Video In Email Marketing Increase Engagement And Open Rates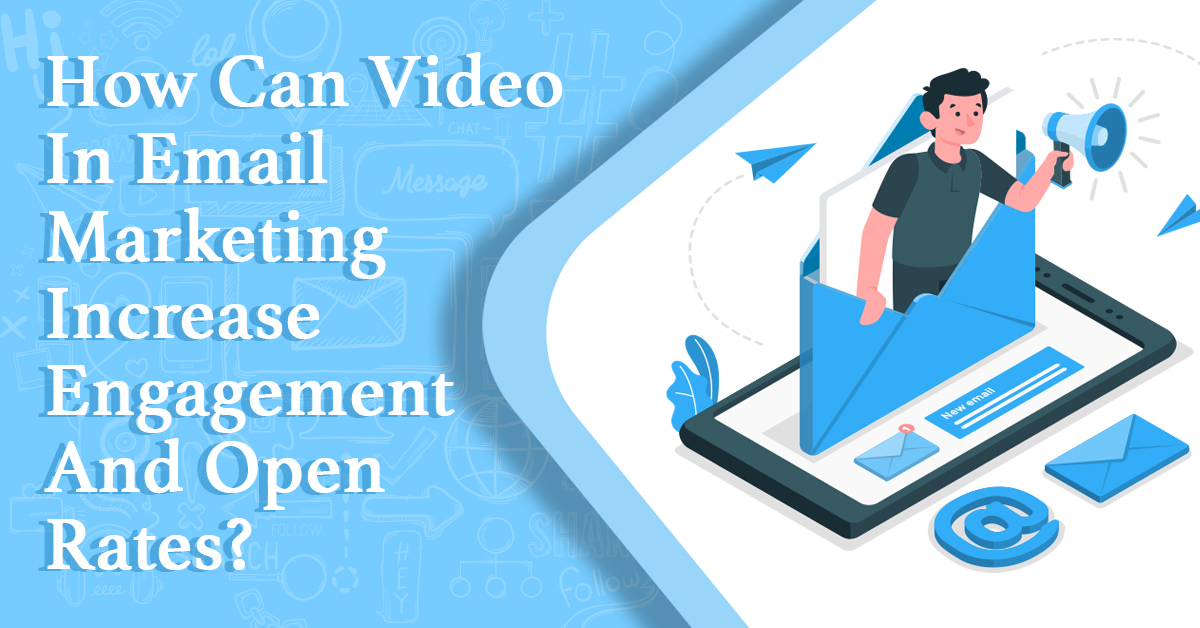 Are you trying to figure out how to make your emails stand out from the crowd? Do you want most of your messages and emails to be opened? Do you want your email campaign to be a success? So, the answer is pretty simple. It's videos, videos, and more videos.
Combine videos and emails, and witness the magic. Video email marketing can be highly effective! It will enhance email opening rates, engagement, ROI, and even more sales. VSLs are the new young kids in the market.
Here are some startling video email marketing statistics to assist you in understanding how it can help businesses increase open rates and conversions.
By including video words in the email subject line, the open rate of emails increases by 19%.
By putting video content into emails, the click-through rate can be increased by 300%.
93% of marketers utilize email as a method of content distribution.
As a result, more firms are generating and using videos. Many marketers are considering including videos in their digital marketing strategy.

Video in email marketing is the newest trend, and your company needs to embrace it if it wants to stay ahead of the pack. Video email marketing is the most effective technique to meet corporate goals, from raising open rates to increasing business productivity.

So, the big question is -

How to utilize video email marketing to boost open rates and engagement?

Email marketing has a vast potential to increase your revenue when done correctly. However, if you can fully utilize email marketing with video, you can enhance your brand awareness, create content loops, run personalized campaigns, and more!

Videos in emails provide a fun aspect, but they also encourage recipients to act. You can enhance open rates, click-through rates, customization, and trust by integrating videos in emails. And it's quite easy to get started nowadays, especially with the use of an online video maker. You get tonnes of templates to play around with and quickly customize them according to your needs.

So, without further ado, here are some pointers that will assist you in embedding videos in emails and achieving better outcomes.
Incorporate a GIF into your Email sequences

When marketing emails are compelling and instructive, they form a connection with your potential customers, and GIFs are one of the most effective techniques for creating an emotional connection with clients and persuading more people to visit your website.

GIFs are essentially animated images that are more easily understood by our brains and aid in the rapid transmission of messages. It is attractive, but it allows you to incorporate it into emails easily. Emails using GIFs make the text more personal and attract the reader's attention, increasing the conversion rate and sales.
Make use of HTML5

It is another strategy through which marketers can persuade recipients to read the email without leaving the box. It's a little challenging, especially for non-techies, but emails constructed on HTML5 assist marketers in cost-effectively increasing reader interaction and saving time.
This strategy is effective for most readers. It does not work with email behemoths like Gmail, Outlook, etc. but works brilliantly for smaller firms.

So, to ensure that your video email campaign is as effective as possible, try using a YouTube embed in your email or even an image next time using HTML5.

Add a play button to a static image

Another option for marketers to pique the interest of email recipients is to provide static graphics with a play button. It's one of the simplest and most effective strategies to boost your subscriber count.

The viewer will be redirected to your video if they are interested in watching it. You may use this strategy to show them what they'll get in the video.

Snap a screenshot of the video's most appealing scene and add a play button to the top to utilize this method. You'll be able to enhance targeted traffic and make your emails more optimized and appealing.

Include a clear call to action

Most individuals will only take action if they perceive the video as intriguing and engaging. And CTA is critical to the effectiveness of video marketing. And nowadays, you get loads of templates for CTAs in the video maker editors. It's a no-brainer, to be honest. So, why wait?

CTAs in videos urge viewers to take action and inform them about the content of the video. Add a CTA at the end of your video that you plan to include in the email if you want to take the reader through your sales funnel. A clear and appealing CTA encourages visitors to take action and saves them time.

Add the word "video" to the subject line of your email

The subject line is the most common way for readers to determine whether or not an email is helpful. Suppose the subject line is interesting and informative; the reader is likely to open the email and participate in the campaign. As a result, marketers like to include videos in emails to enhance the open rate.

Suppose you include a video phrase in the email topic. In that case, users will feel that there is something additional and amusing in the email. According to a Mediapost study, marketers who add video in the email subject line should expect a 7 to 13 percent rise in open email rates.

Make use of eye-catching thumbnails

Using interesting videos in emails allows businesses to make boring content appealing, better engage visitors and build relationships with them.
Although including videos in emails enhances conversions and draws readers, it is preferable to have eye-catching thumbnails if you want to ensure that each email is opened and read. The higher the level of involvement, the higher the sales. So, if you're going to improve email engagement and open rates, include original thumbnails and videos in your emails.

Summing it Up!

Video is a fantastic method to connect with customers, both old and new. The above suggestions can help you comprehend the importance of high-quality videos that can work out for you in email campaigns. To enhance your advertising campaign and make it more effective, you can ask viewers about the videos they're interested in and send them video content according to their choice.