How to choose Best Email Management Software for your business
3 years ago
By Jeksani Mounika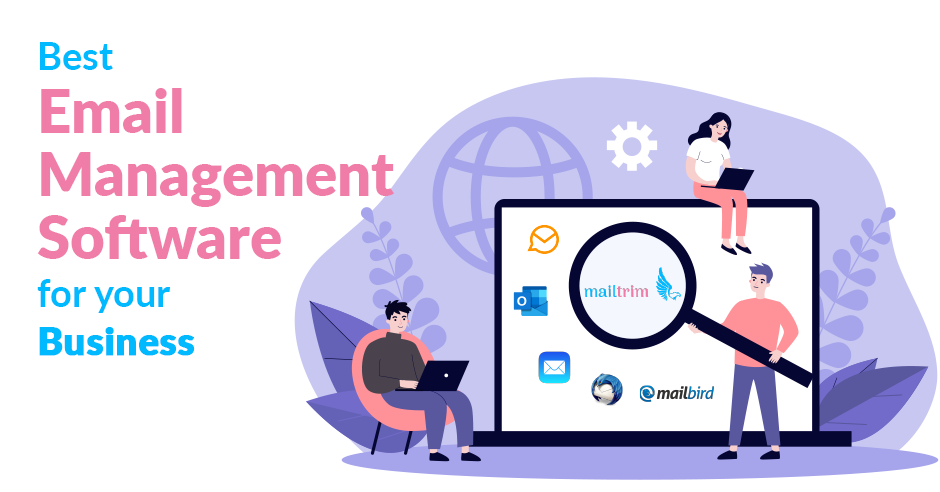 Gone are the days where email was just an electronic message received or sent through an electronic device. Yes, the chore process of the email remains the same but the extensive features, new jobs & responsibilities that can be performed and aligned to today's email needs some extra skills to manage it, which is not possible with a simple email service unless you are taking the risk of sidelining the responsibilities you are signed up for. All you need is an assistant to do it, to be precise you may need a virtual assistant, which the email management software can do.
What is Email Management Software?
It's a pro-business tool which can manage the vast number of your emails by categorizing and presenting it to you in the chronological order for your quick access, based on the subject in it. With today's upgraded software you can also manage all your work without depending on other tools.
There are Two types of Email Management Software
Desktop email client will allow its users to access their emails via their computer systems
Online email services are also called as webmail, where users can access their received, sent emails by logging into the email service provider's web browser
Why do you need the Best Email Management Software for your Business?
It has become essential to oversee your daily flooded emails, as well it can monitor the tasks, trigger automated replies saving your time, give a secured server to store your emails and so on with embedded tools in it
Organize emails
It's designed to organize and filter your emails according to your ongoing projects with the help of your mentioned specifications or based on your threads. With one of its features, you can choose to respond later with particular emails so that you can carry on with your work seamlessly without consuming the time in just checking the emails in peak hours. In fact, to not miss in giving the reply, you can set a reminder, as per your ideal time.
Multitasking
With the integration of different tools in it, you can carry on with your multitasking work within the same interface yet without switching between multiple interfaces. For example, with the integration of Customer Relationship Software (CRM) and by syncing the emails & contacts from your multiple accounts, you can save a lot of your quality time
Spam
Major email traffic is created by the spam, which you can receive in a certain number on a daily basis and within your capacity it can be considered as such only when you check poured emails in your inbox, by giving ample time. With its unique feature and based upon your specifications, emails you receive will be spammed or sent to the spam folder without moving it manually
Security
The inbuilt antivirus in it can secure your business by eliminating the virus generated emails that are designated to steal your company and customer data, whose costs are high in this modern digital world. A simple email service or an incompetent can maximize your company's vulnerability.
Monitor your teamwork
You can delegate the emails to your team with just a click and additionally you can check on the work status that you have assigned to your team based on their jobs & responsibilities, saving your time and boosting productivity.
Repository
The emails, sensitive data, attached files that are lying in your email folders for a long time period which cannot be deleted as possibly it may serve as your future reference, can be moved to a safe and secured repository
Easy to use
It provides the intuitive graphical user interface (GUI) ridiculing the bounded complexity in handling the work, that can make you settle at ease
Marketing Campaign
Using this software you can run your marketing campaign effortlessly and monitor it by collaborating with your team. All your customer data will be synchronized in it and you can send bulk email to every customer without missing any of them
Tips for choosing the Best Email Management Software
Every email management software cannot be the best email software. Some tips are listed below, which you may want to consider before choosing it as your tool
Integration
Check the integrated business tools in it so that you don't have to work scattering your mind on different platforms
Flexible
Be advised to choose the best email client for business that can be accessed with your multiple electronic devices like smartphone, tab rather than depending solely on computer systems
Customer Support team
It's important that your software should have a dedicated customer support team so that issues arose within the software can be addressed promptly without affecting your workflow
Features
Make sure that your chosen software constantly upgrades their features in it and they are capacitated enough to meet your needs
What to look up in Email Software for Business
There are some features that would make more effective
Email sorting
With the capability of reviewing the content in your emails like inbound, outbound, emails from your organization & other organizations, ads, spam and so on can be sorted prioritizing your work timeline.
Read also : about Manufacturing ERP Software
Meeting scheduler
With this feature you can schedule the meeting with your team or clients from different geographical places syncing with their time zone, whereas it can send and receive the information from multiple accounts. You can also view your composed meetings, meeting invitations that will be synced in the calendar by appearing as the event calendar.
Workflow automation
This feature enables you with the privilege to create automated series of replies to marketing and sales emails, which reduces your time in checking the email and responding to it accordingly.
Customer service
This feature is highly workable for customer support teams. With the automated ticketing system the support ticket will be generated to your customer emails, aligned with the access in delegating and monitoring your team's tasks and additionally you can also share your inbox with your teams.
Templates
Based on the content and sender, every email cannot be replied with the same template. Using this feature you can create multiple templates or you can choose customized templates from the gallery categorizing the emails of your boss, team, customers, clients and so on.
Analytics and reporting
With the activities in the software, it will generate a report which states the number of times email checked, the average time taken in responding to customer and so on, it will be useful to work in improving your team's performance.
Comparison chart for Best Email Collabration tools:
Name
Starting Price

Primary Features

Languages Supported

Available devices

1. MailTrim

Free

Intelligent inbox

Email Signature

Respond Later

Smart search

Impressive Archives

Customized displays

Flag

2. Sendinblue

$25

Email campaigns

CRM

Marketing automation

SMS marketing

Chat

Facebook ads

Trigger

Monitoring

Google analytics integration

English

German

Spanish

French

Italian

Portugese

3. NetHunt CRM

$24

Contact Management

Deal Management

Opportunities Management

Multi-Pipeline Support

Saved Filters

Data Import and Export

Call Logging

Meeting-Note-Taking

Windows

Android

Iphone/iPad

Mac

Web-based

4. Microsoft Dynamic 365

$750

Multi-channel Campaigns

Email management

Custom templates

Customer profile

Data management

Lead management

Customer segmentation

Customer journey management

Event management

Analytics

Customer Voice

Landing pages design

Integrated intelligence

All international languages

Windows

Android

Iphone/iPad

Mac

Web-based

Windows Mobile

5. Boomerang

$4.99

Respondable

Inbox Pause

Email Reminders

Send Later in Gmail

Read Receipts for Gmail

Schedule Send Email

Recurring Email

Gmail Follow-up

Schedule Email

Follow-up Emails if no response

Send Reminder Email

Response Tracking

Gmail Snooze

Gmail Notes

Email Tracking Softare

Gmail Delay Send

Boomerang Mobile

English

German

Spanish

French

Portugese

Japanese

Korean

Extension for Gmail and Outlook

Android

iPhone
6. Zoho Mail

Contact sales for US plans

Email Suite

Control Panel

Custom Domain

Enterprise Email

Security

Collaboration

Email Retention

Easy Migration

Mobile Access

Email Privacy

English

Deutsch and other languages

Windows

Mac

Linux

Android

iPhone/iPad