Best Email Client Software to Manage Your Business Emails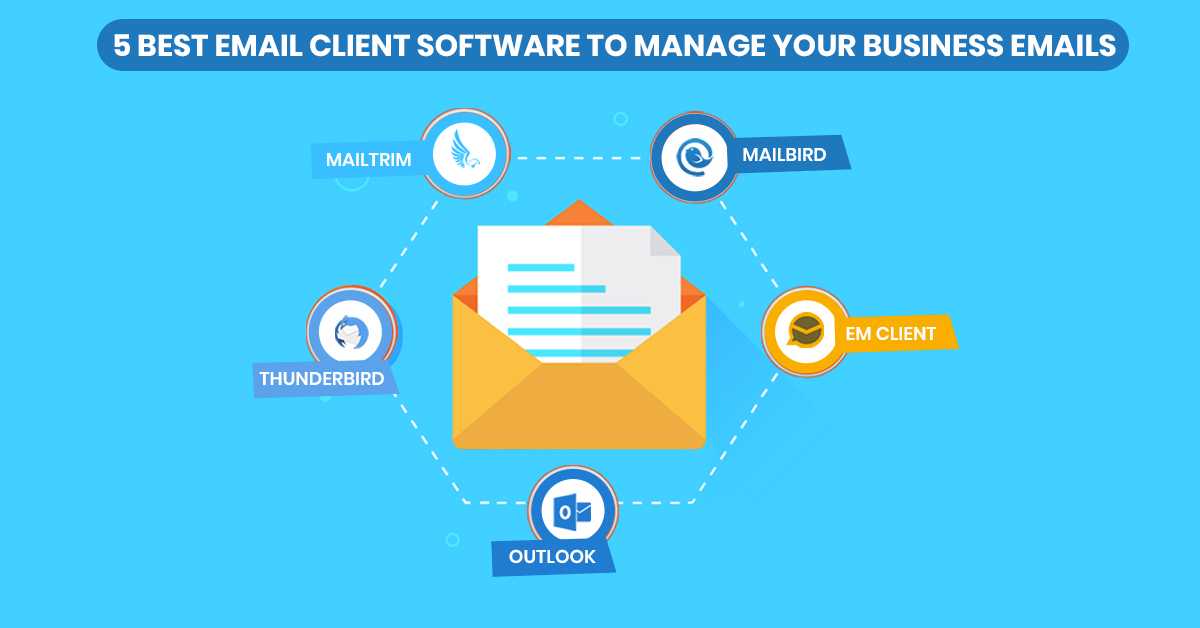 Are you still managing your business emails manually? Killing your productive work hours while checking into the endless email workflows? We know, it is a tough row to hoe to prioritize, organize, and schedule emails with the standard email management system that you're using for decades!
Switch to the smartest and modern email management software for business today to get rid of information overload, cluttered inboxes, spam emails, unwanted newsletters, etc., to send and receive organized email communications.
Which mode of email communication works best for your business? Do you require a web-based email tool or an email client that you can host on your personal computers or software that smartly manages your incoming and outgoing email communication with additional productive and time-saving features?
Well, it's now the time to give it a thought on which one to choose and why?
If you prefer to access your emails from online email service providers, you can go with the world-popular SaaS providers such as Gmail, Hotmail, Yahoo mail, etc. All your emails reside on their remote servers, where you need to access them via the internet.
You can find many famous and budding free email clients for business, such as Microsoft Outlook, Thunderbird, Mailtrim, and more, for securely accessing emails from your on-premise servers and PCs. You have to download the desktop edition on your Windows, Mac, and Linux operating systems to use these email clients.
And now, moving on to the part of efficiently managing your emails, you require a simple yet powerful email management software that sorts your emails automatically according to the preferences set by you. Such kind of tools helps teams spend less time fishing the emails and more time to attain productive work hours.
How would it be if you can organize your inbox into categories for quicker view and readability? Isn't that amazing to have email and calendar together in one place within one free email client software to schedule events and track meetings? Do you often feel the need for encrypting your email contents from third-party readers with end-to-end encryption?
We have answers for all the above questions with an amazing feature stack from different email management systems!
Let's take a quick dive into the all-in-one productive email tools with real-world features that help business users to have sustainable communication with their clients.
Microsoft Outlook
Most business establishments still prefer to go with Outlook for its intuitive, collaborative, and tons of ready-to-use features. Though it is not as easy to use as Gmail, however, the people of the small, medium and large corporations majorly hinge on this ever-upgrading sophisticated UI for their office email communication.
Outlook filters the focused emails for you, enabling the view of important emails. While drafting an email, you can use; My Templates, Get Add-ins, customize the text with fonts and formats, insert your business signature, make your email conversations fun with emojis and GIFs, schedule your email, etc.
Outlook says, it has come up with the most accessible inbox designed for everyone, with intuitive, voice-controlled navigation, support for multiple assistive devices, and more.
The best email client for windows offers the variants of; For home and business. You can keep checking your inbox with its mobile app too.
Microsoft Outlook has its own apps integrated into it. You can switch to Word, Excel, Powerpoint, OneNote, One Drive, Meet Now, To-Do, etc., from the same emailing interface.
You can create a free account to access its one-month free trial! It offers the pricing plans of Business Basic, Business Standard, Business Premium, and Microsoft 365 Apps (only includes apps) at different affordable pricing structures.
Mailtrim
Maitrim, the new-gen free email client for business, comes with a clean and sophisticated UI along with a great emailing experience for the users. This end-to-end encrypted email software allows the users to use it from the other email servers of Gmail, Yahoo, AOL, Outlook, and more. You just have to set up any of these servers if you prefer to use Mailtrim using your current account credentials, or you can directly log in and start using it.
This modern emailing platform helps its users to split the inbox into eight different categories. The incoming emails are sorted as per the preferences set by the user. The categorize feature routes emails into separate inboxes on their arrival. The other features of this secured email management software include:
3-Layout View: You can change between the 3-email layout view according to your changing preferences.
Create Rule: Let your emails reach pre-destined folders with this feature.
Respond Later: Tag respond later to the received mail to reply at a later time.
Email Signature: Configure your business email signature and let it automatically attach to every email you send.
Blocked Users/Domains: Receive what you think is important. Enable this feature to stop receiving unwanted emails.
End-to-End Encryption: Enable email masking to hide the contents of your emails while sending them. Only the recipient has the control to read the contents of the mail by decrypting it.
Contacts: Find all the sent and received email addresses in one place for easier use.
You can download Mailtrim email client on your Windows, Mac OS, and Linux from its official website.
The inclusion of the calendar feature in its last version upgrade allows the users to create, schedule, and join the events. In addition, few more integrations to join the pipeline include; Cattle Call for audio-video conferences, Troop Messenger for team collaboration, File Deck for managing files and attachments in a cloud etc.,
Mailtrim Personal and Business both are free to download!
eM Client
eM Client has been made for business email communication and for the home users too. This all-compatible free download email software works with Google Workspace, Office 365, Outlook, Exchange, and many more. It lets you import all your emails and data from your current email system in just a few clicks.
eM Client offers a mix of features such as calendar and tasks, contacts, notes, chat, message encryption, send later, quick text, etc., to streamline your business email communication with great ease. It comes with an easy-to-use and simple interface, letting the users have a great emailing experience.
This email client works with your Windows and Mac!
It doesn't mention any specific kind of integration support on its official website. However, it says it is compatible with G Suite, iCloud, IceWarp server, Mailfence, Microsoft Office 365, and more.
You can explore its free trial for 30 days and later Pro-for Individuals and Pro-for companies as per your need.
Mailbird
Manage your multiple account emails and contacts within Mailbird's unified inbox. This ultra-customizable email client has received a good number of rewards as the best email client from Lifehacker, Windows Report, softonic.com, and IT World. Take a break from sending the routine email formats! Use Mailbird to send beautiful and professional emails to your business clients.
Features

Snooze
Speed Reader
Custom Sounds
Linkedin Lookup
Attachment Search
Dark theme and more

Platforms
Integrations

Google Calendar
Dropbox
Google Docs
WeChat
To Do and more

Pricing
You can download Mailbird for free! Mailbird-Personal, Mailbird-Business (pay once), and Mailbird Business-Yearly are the paid variants available for the users.
Thunderbird
The free and open-source email client platform from Mozilla Foundation is serving users across the globe for more than a decade. It says to forget about the complexity and focus on the emails that matter the most to you! This customizable emailing platform lets you peacefully exchange emails with do not track and remote content blocking facilities. Thunderbird has partnered with Mailfence to provide encrypted email service to its users.
Along with the basic features of a one-click address book, attachment reminder, quick filter toolbar, message archive, it allows you to customize your emailing experience with its look and feel, smart folders, open PGP, calendar, add-ons manager, phishing protection, and automated updates.
Platforms

Windows
Mac OS
Linux
Free BSD

Integrations

XNote++
Smart Templates
CardBook
Google Calendar
Mail Merge and more
Pricing
Signing off
Email communication is the heart of every day-to-day business transaction. You have to choose the best email management software for your teams to deal with the volumes of emails you receive every day. I have personally tried and tested Mailtrim for my office communication and, it is allowing me to save my crucial business hours with its efficient and smart feature stack. That being said, it's you who can decide what you require for your office needs. Choose wisely!