Mailtrim vs. Outlook: Top 10 Secrets You Should Know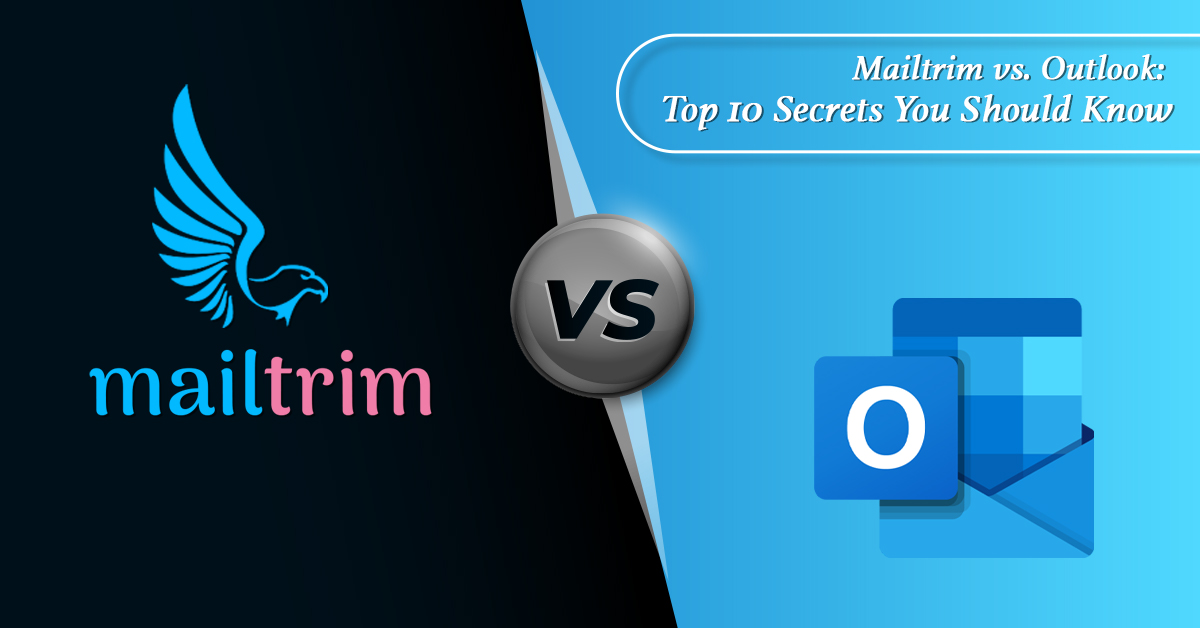 Outlook has been for many years and a popular email client among SMEs and large enterprises!
Though used by large giants, many other email clients in the market have been outperforming this email client. One such email client is Mailtrim.
Mailtrim, being one of the best and new-gen email management software, offer similar features and functionalities to Outlook. However, it is the biggest competitor to Outlook as it provides all essential and enterprise-grade features free of cost.
Incredible, right?
Read on to know the top 10 secrets of Mailtrim that makes it one of the best Outlook alternative and the features that upbeat all other email clients as well.
Let's first glance at the overview of both email clients!.


Mailtrim Overview:
It is a free email client and runs on Windows, Mac, and Linux.
This email management software is free for both business and personal use.
It supports multiple email accounts and users can manage all of them in a unified inbox.
It offers all essential and enterprise-grade features such as email signature, unified inbox, respond later, rule creation, categories, contacts, calendar,
advanced settings, end-to-end encryption, advanced search, archives, flagging, customized displays, and integrations with third-party applications.
Users of this email management software can manage their emails, tasks, contacts, and calendar together in one place.
It supports both IMAP and POP3 protocols.
Outlook Overview:
It is a premium email client and runs on Windows, Mac, Android, and iOS.
It is a part of the MS Office productivity suite.
Users of Outlook can manage emails, organize meetings, and plan schedules using its Calendar integration.
Also, this email management software is very popular among SMEs and large enterprises.
It offers a rich feature set that includes powerful spam filters, email filtering, smart lookup, email scheduling, contacts, calendar, keyboard shortcuts, task management, integrations, and many more.
This highly secure email management software has a built-in feature for filtering junk emails, blocking suspicious emails, and protecting emails against phishing attacks.
Let's get started with
Mailtrim vs Outlook!
Mailtrim vs Outlook Comparison: Top 10 Secrets You Should Know!


1. User Interface/Experience (UI/UX): Mailtrim vs Outlook
The UI of Mailtrim is modern, slick, and sophisticated. Also, its 3-layout view feature is more appealing to its users. You can view and change the list of the same emails at three different outlooks according to your preference.
The UI of Outlook is traditional and its rich feature set makes it complex though it has taken essential steps to ensure intuitive UI. And it has no tabs for navigation.
2. Email Organization: Mailtrim vs Outlook
Mailtrim's inbox has tabs that automatically categorize your emails by default such as Teams, Clients, Friends, and Promos. You can change them if you want. In addition, it uses labels and categories to organize emails. Users can create categories and place emails in relevant categories. Also, they can label emails as important and unimportant. Besides, while composing an email, users can set importance as High, Medium, and Low. Furthermore, they may simply right-click on any email thread to route emails to the chosen category when they arrive.
Users of Outlook organize emails by creating folders and subfolders. Thus, they can differentiate between personal activities, work, and other projects. Also, users can pin a folder or flag messages that are important and archive messages. The only disadvantage is when users receive a reply, it appears as a new message instead of a single line like Mailtrim.
3. Unified Inbox: Mailtrim vs Outlook
Mailtrim has a unified inbox where it displays all the emails from different accounts such as IMAP, Office 365, Gmail, Yahoo Mail, AOL Mail, Outlook, etc. on a single interface. This unified inbox is what makes it one of the best free email clients.
Outlook has no unified inbox. Only Outlook emails will be used as aliases and other emails are not permitted. All other emails can be viewed separately.
4. Rules Creation: Mailtrim vs Outlook
Mailtrim's email rules are appreciable. Because we can set email rules as many as we want and they allow users to move or delete specific emails or categories.
Outlook's email rules offer options to manage messages and automate tasks efficiently. However, they didn't work properly whenever the rules quota exceeded and other irrelevant reasons such as corruption using an IMAP or POP3 account or corruption in send/receive settings file.
5. Privacy: Mailtrim vs Outlook
Mailtrim won't store your passwords, email conversations, and files on its servers. It won't misuse (share/sell) its user data with any third parties. Hence, you can have a safe and secure collaboration with Mailtrim. Moreover, it keeps all your emails with PGP encryption.
Outlook stores the data in servers though it provides robust security to all your data.
6. Security: Mailtrim vs Outlook
Mailtrim's security features are available free of cost and they offer a good level of protection for both personal use and businesses.
Outlook offers basic security in its standard plan. All other advanced security features like advanced threat protection for attachments and safe links can be available with advanced licences.
7. Platforms supported: Mailtrim vs Outlook
• Mailtrim supports Windows, macOS, and Linux.
• Outlook doesn't support Linux.
8. Cost: Mailtrim vs Outlook
Mailtrim is absolutely free and available for everyone. All features come free of cost.
The cost of Outlook is a part of Microsoft's package and paid plans are expensive.
9. Search function: Mailtrim vs Outlook
Undoubtedly, Mailtrim offers more advanced search features than Outlook. You can type directly by typing a word/phrase/email address. Otherwise, it lets you set different parameters. Users can look through date ranges, senders and recipients, different tabs, categories, labels, etc.
On the other hand, Outlook has a basic search function. Users only need to type the required word/phrase/email address to get the required message.
10. Integrations: Mailtrim vs Outlook
Mailtrim's integrations include team collaboration tools such as Troop Messenger, audio-video conferencing tools like Cattle Call, Cloud management of files and attachments tools like File Deck, CRM, Google Drive, Dropbox, etc.
Microsoft Outlook's integrations include its own applications such as Word, Excel, Powerpoint, One Drive, One Note, To-Do, Meet Now, etc.


Comparison Table: Mailtrim vs Outlook
Hope, you got sufficient information about both email clients. Let's summarize the difference between both email management software in tabular form as shown below.


Mailtrim
Outlook
Open-source software (OSS)/Proprietary software
It is open-source software.
It is proprietary software.
Application set up
Easy to set up and easy to use. One-time setup for email server.
Both the set-up process and configuring are complex.
Supported platforms
Windows, macOS, and Linux
Windows, macOS, Android, iOS, and Web
Availability
Emails can be viewed offline.
without an internet connection, the web version can't be used.
Key Features

• 3-layout view

• Unified inbox

• Shared inbox (for businesses and teams)

• Email signature

• Respond later

• Rule creation

• Categories

• Contacts

• Calendar

• Advanced settings

• End-to-end encryption and email masking

• Advanced search

• Archives

• Flagging

• Customized displays

• Whitelisting/Blocklisting

• Integrations with third-party applications

• Quick steps tool

• Advanced filters

• Anti-phishing filters

• Calendars

• Contacts

• Task managers

• Groups

• Keyboard shortcuts

• Customized view

• Enterprise-grade security features

• Scheduling

• Smart lookup

Integrations
CRM, Google Drive, Dropbox, Troop messenger, Cattle Call, File Deck, etc.
Word, Powerpoint, Excel, One Drive, One Note, To-Do, Meet Now, etc.
Pricing
It is absolutely FREE. All essential features come free of cost.
Advanced features come either in the paid plan or as add-ons.
Issues
All features work perfectly.
Unexpected downtimes due to feature complexity

Highlights of the email client

• It supports IMAP and POP3 protocols.
• Integration with various third-party tools and team collaboration tools.
• It supports POP3, IMAP, and, SMTP protocols.
• Reliable performance
• Advanced Security Features
• Programmable automation rules
Cons
Advanced security features like phishing filters are in its beta version

• No unified inbox

• Reliable but sometimes it also has downtimes.

• The web application can't be used offline.

Support

In-person, Documentation, and 24/7 online support.
In-person, Documentation, and 24/7 online support.
Conclusion:
Although many factors, such as app features, collaboration, compliance, availability, and support are similar for both Mailtrim and Outlook, from the comparison of Mailtrim vs Outlook, Mailtrim comes out as a much superior option for intuitive UI/UX, reliability, pricing, and privacy.
Why wait?. Revamp your email experience like never before and stay organized and productive with Mailtrim!
What are your thoughts on this?
Is this article helpful? Or am I missing anything?
Hesitate not to write us your valuable feedback.