How to Setup Mailtrim with Yahoo mail
3 years ago
By Jeksani Mounika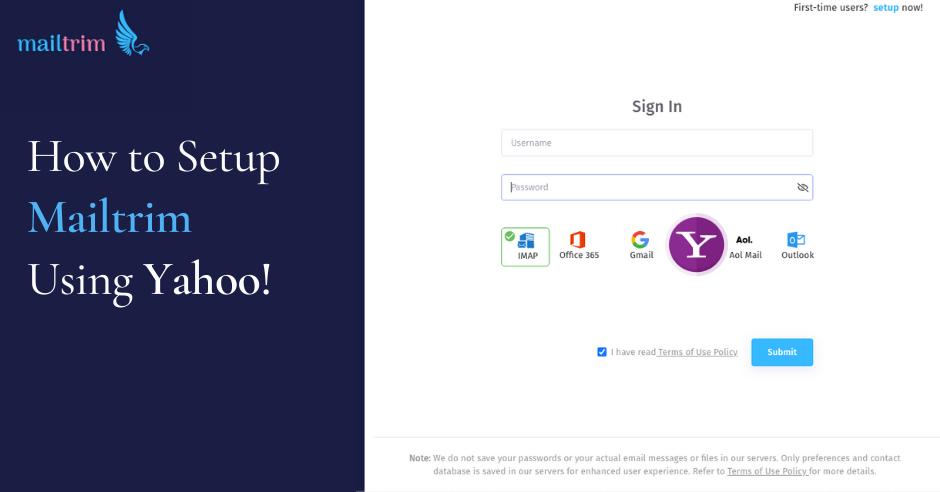 Accessing multiple email accounts using desktop email clients
There was a time where a user with an email account can communicate with another user only when it was the same email service provider. Later, the users gained the access to communicate with the users of any email service provider, and taking a few more steps forward email had transitioned to one of the cores and important communication tools in today's updating world.
As per our requirement, we tend to create multiple accounts with one or multiple email service providers, which becomes a time taking process and a huge task in checking the emails. You may be hesitant to imagine when those emails are from multiple domains and when checking emails is part of your job, situations would get much worse. Thus, sometimes deliberately we may skip checking the emails in alternate accounts. But with today's developed technology, all your emails can be synchronized within one desktop email client like Mailtrim, with the Internet Message Access Protocol (IMAP) and Simple Mail Transfer Protocol (SMTP) settings of different email accounts or service providers, you can have the access to view all your emails of different accounts within one single user interface (UI).
With multiple choices of desktop email clients in the market, every tool would appear to be similar in terms of performance, yet Mailtrim has its reasons to stand out as a unique desktop email client.
Mailtrim
Mailtrim is an Email Management Software, which sorts all your work leading to one single UI, where you can manage all your jobs & responsibilities like viewing your emails of multiple accounts, workflow automation, task management, Customer Relationship Management (CRM) activities, business meetings scheduler with an event calendar, marketing campaigns, analytics integration, data management, and so on. On a simple note, with the multiple integrations of other tools, all your multitasking processes can be operated on one tool without scattering between multiple tools' UI and consuming your productive time.
Mailtrim can be flexibly operated on your mobiles, tabs also. Using this tool makes it easier for the users to eradicate the vulnerability by controlling the email virus, spam created by email traffic without affecting your company. So, selecting this email management software can honor all your business needs.
Mailtrim is so efficient that it can become your's alter in managing your work and with the constant upgrade and integrations of other tools it can be so proactive in meeting your future needs too. Considering such comprehensive reasons many clients or users opt for Mailtrim seeing it as the best email management software.
Benefits of using Mailtrim
Using such a tool can be beneficial, some of the benefits of using Mailtrim are
You can view all your emails of multiple accounts including inbound, outbound emails, which will appear organized as per the subject and your specifications in it, for your quick access
Your redundant emails will be directed to the spam folder, saving your productive time in looking for important emails
You will have the access to use the multiple predefined email templates based on the email's conversation
This tool can lead you to manage all your work in ideal conditions. You can create the task, manage the task, and with the access to turn the conversation into a task involving your team members simultaneously, you can monitor all your tasks, boosting the teamwork

It is available at your hand extension, as in mobiles, tabs, thus you can handle your work flexibly

You can schedule your meetings
With the multiple integrations, your multi-tasking work that is bounded to consume your productive time can be saved

Your work will become intuitive and it will be easy to use

Every work process and every email communication will be secured with the help of inbuilt anti-virus and they will be stored in a safe & secured repository

Customer Relationship Management (CRM) activities can be performed seamlessly

You can send bulk emails to your customers by synchronizing the data
How to Setup Mailtrim with Yahoo mail
As mentioned, any email service account like Yahoo, Gmail, Outlook, Zoho mail, and so on can be set up with the desktop email client. For instance, let us look into setting up Mailtrim with Yahoo mail, which allows you to access all your Yahoo emails in Mailtrim. This process involves generating Yahoo app passwords and with the help of Yahoo IMAP settings and Yahoo mail SMTP settings, Mailtrim can be set up easily. Henceforth you don't have to switch between
Mailtrim and Yahoo to check your emails.
All it takes few simple steps to set up, which are mentioned below
Step 1. Generate Password
1. Sign in to yahoo, with your credentials
2. Go to your Account security page, and then click Generate App passwords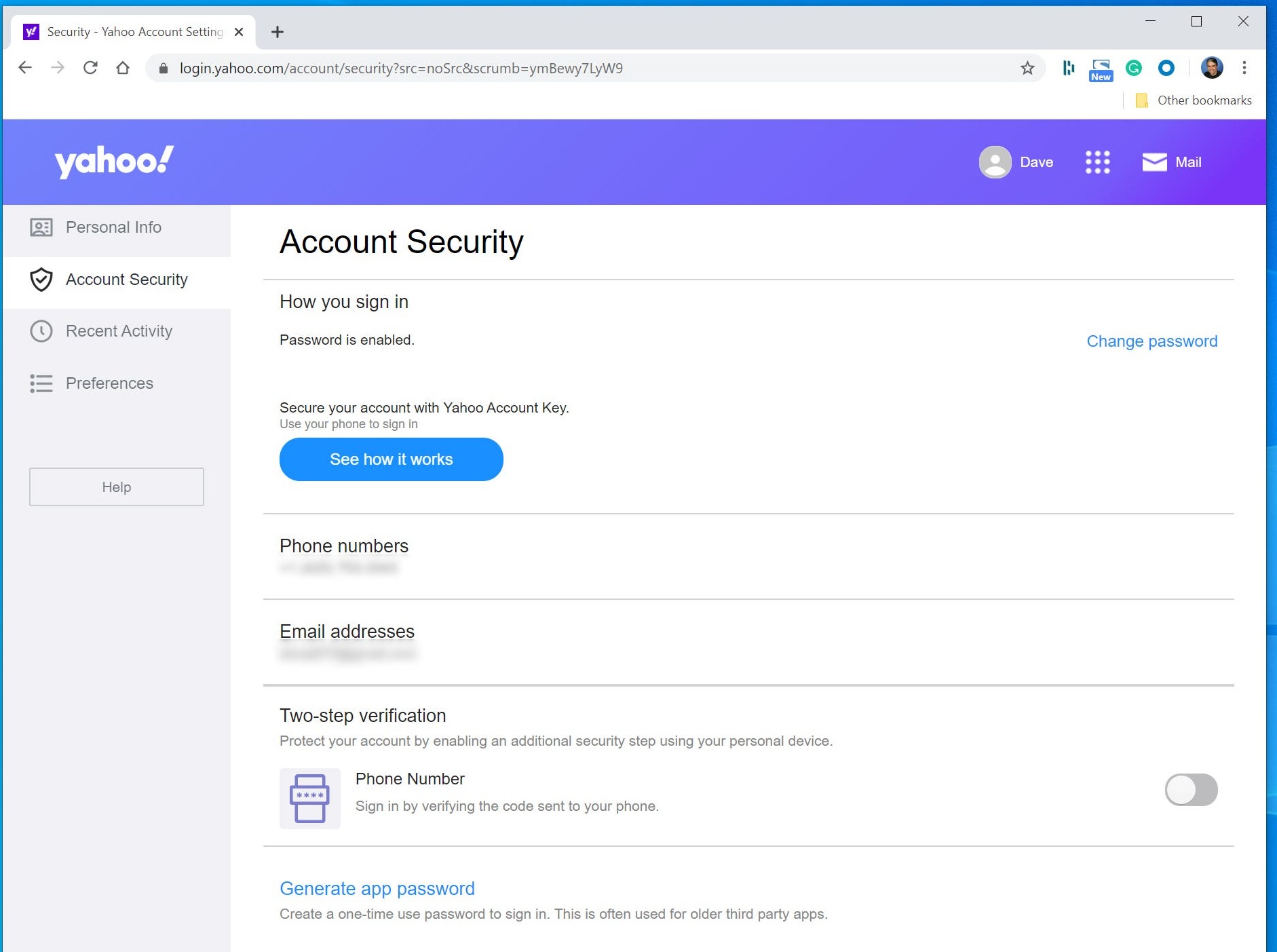 3. Click the drop-down arrow, select Other app,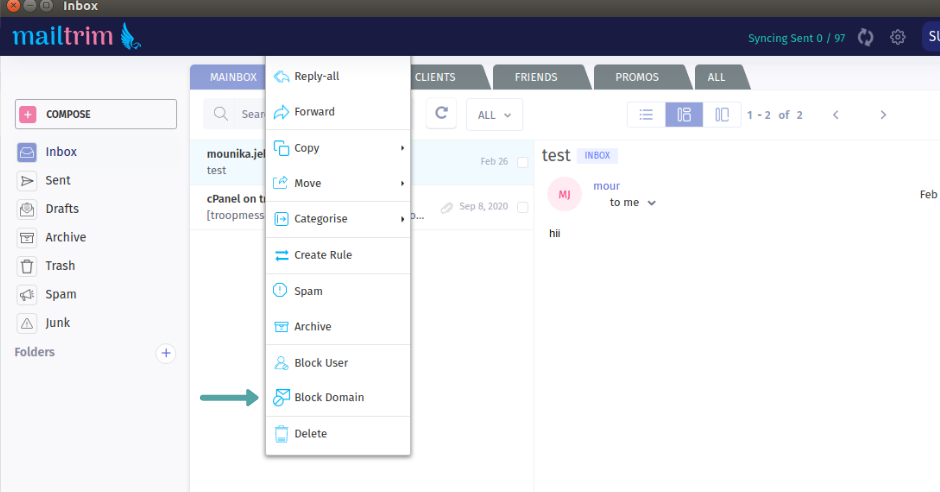 3. Enter Mailtrim as custom name, and then click Generate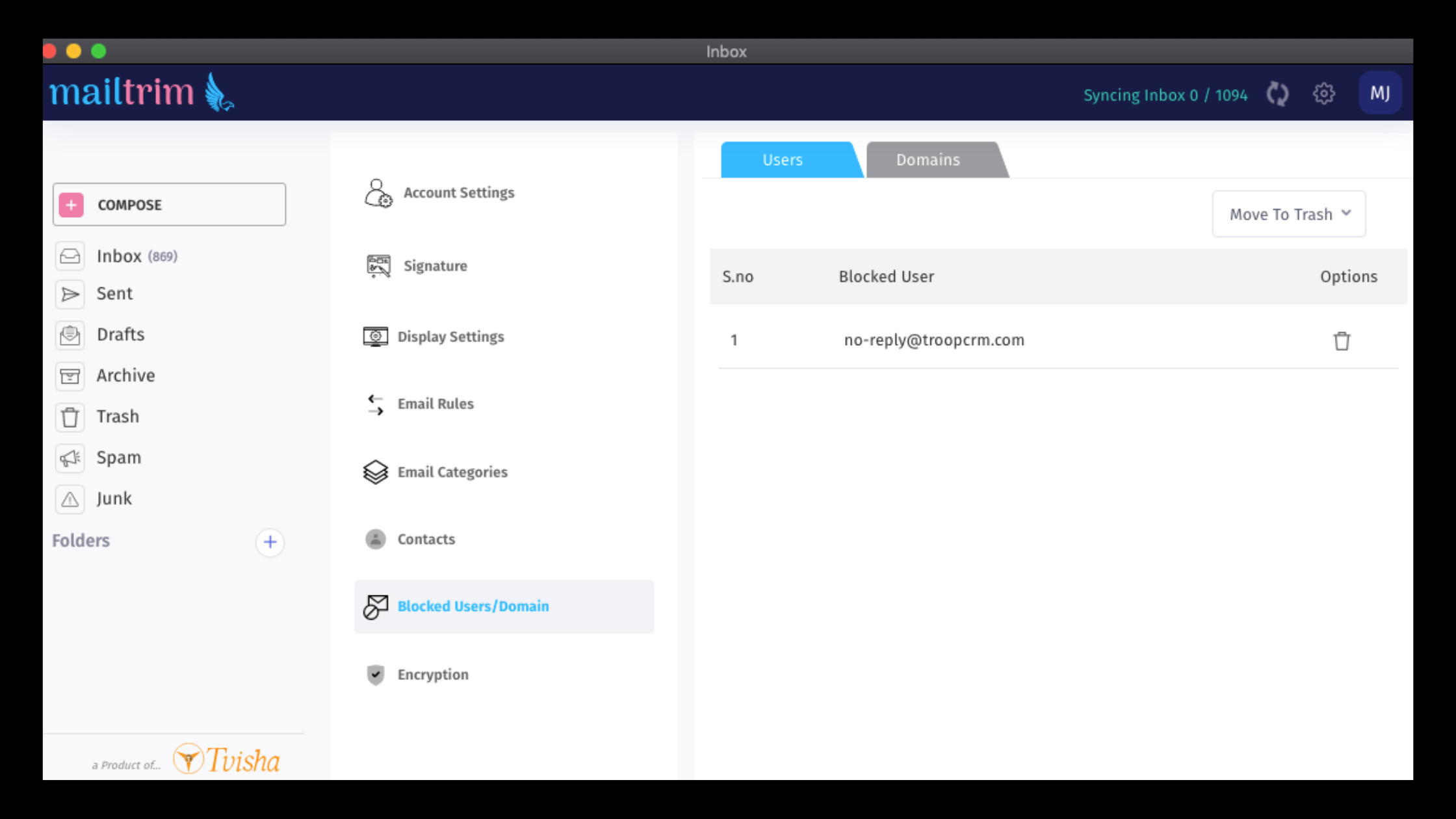 4. By default, the password will be generated
5. Use this default Password for Mailtrim Application while Signup
6. For every login withmailtrim generate the password with yahoo and use it as default password
Step 2. Yahoo server setting
1. On the MailTrim sign-in page, on the top right, click the setup link
2. Enter your display name
3. Enter your yahoo email id
4. Copy & paste your generated password, from your yahoo account security page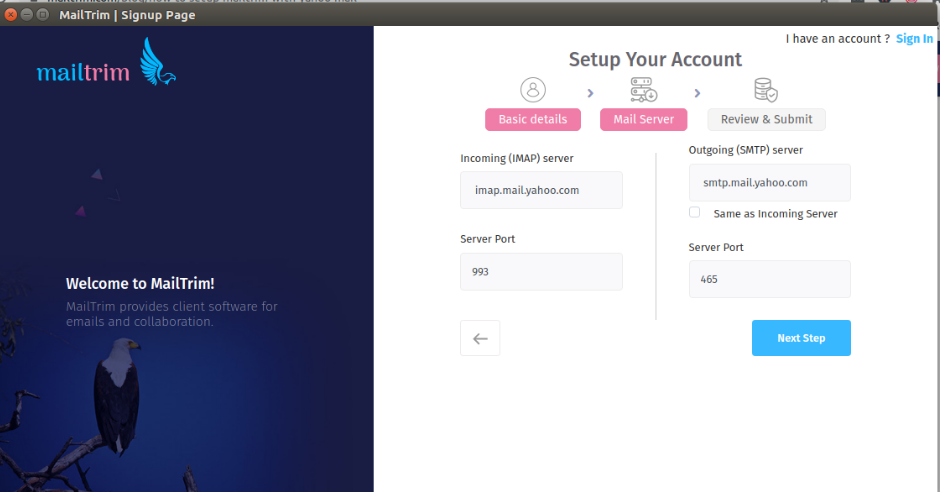 5. Click Next Step
6. Enter imap.mail.yahoo.com, in the IMAP server field
7. Enter 993, in the Server Port field
8. Enter smtp.mail.yahoo.com, in the SMTP server field
9. Leave the checkbox unselected
10. Enter 465, in the Server Port field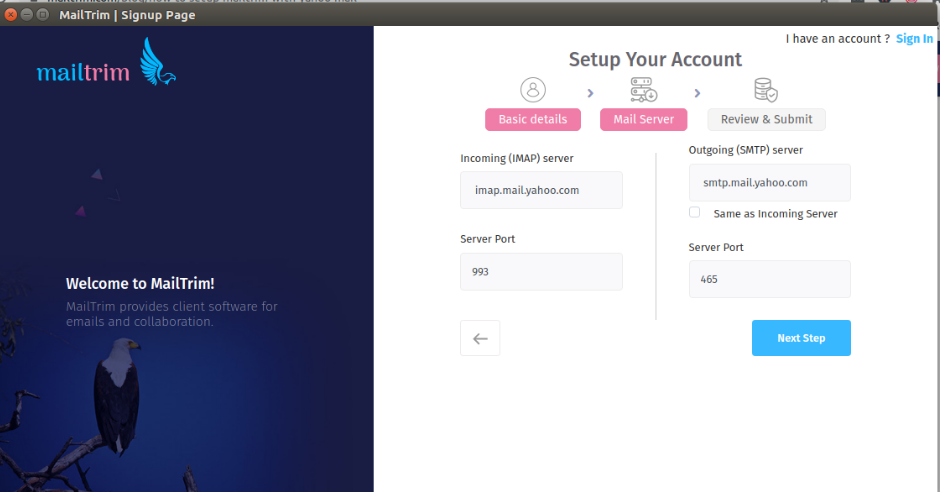 11. Click Next Step
12. Review the details you entered, if they are correct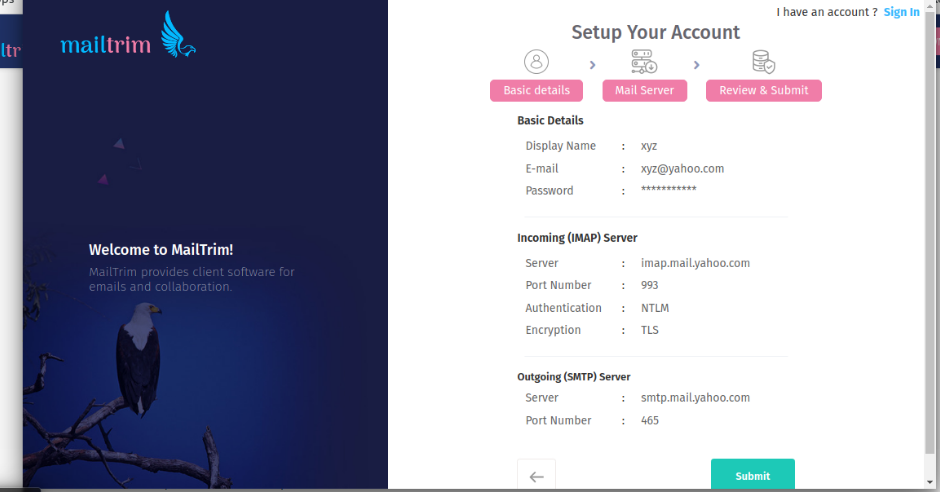 13. Click Submit
A default MailTrim homepage with your Yahoo emails that are ready to access, will appear
Following similar steps, other email accounts can also be set up with ease.
Conclusion
The privilege of accessing multiple emails of different email accounts with just one desktop email client is as good as accessing the ATM for any bank transaction without traveling for a distance to reach only a particular bank's ATM. Such privileges not only save your time but also puts you in a much comfortable position to handle your work smoothly with significant time. Hope this blog reduces the complexity in setting up Mailtrim with any email account, as Mailtrim with Yahoo mail stated.