What is an email client? Choose the best email clients for Windows In 2022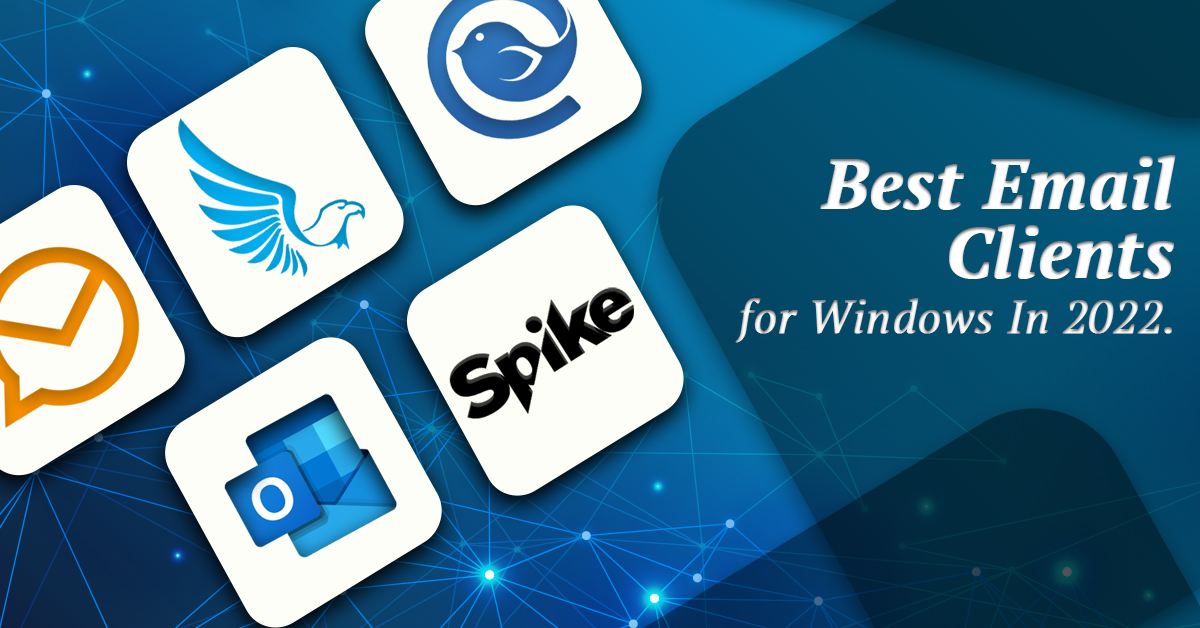 It is tedious and time-consuming if you spend more time at work sifting through your inbox which receives hundreds of emails per day.
What if you have multiple email accounts?
No surprise!. It kills your productivity.
Here is where email clients or email management software comes to your aid. Don't let checking your email waste time that may be spent on working productively and achieving your goals. With the best email clients, you can take control of your inbox.
Before going to the list of the best email clients for Windows, let's dive into its basics first.
What is an email client?


An email client is a desktop or web-based application that manages email accounts from multiple email service providers. With the help of POP3 (Post Office Protocols) or IMAP (Internet Message Access Protocol) addresses, they are connected to email accounts. POP3 restricts email access to a single device at a time whereas IMAP enables simultaneous access and reading of the accessible messages by various devices.
To know which option between POP3 and IMAP is best suited for you, you should know what they are, and the differences between them. For more detailed information refer to our previous article on POP3 vs IMAP here. https://www.mailtrim.com/blog/pop3-vs-imap

Advantages of email clients:
Here are a few benefits of using desktop email clients. Read on.
Emails from multiple accounts can be organized in a unified inbox.
Emails can be accessed offline.
It can be integrated with the calendar and other third-party applications.
It has a wide range of customization capabilities.
We can backup emails on our own devices.
These email clients have upgraded security and encryption capabilities.
What are the best email clients for Windows?
How do you determine which email client for Windows is best for you? or
What to look for in the best email client or email client free?
The email client you choose must
Be uncluttered and provide intuitive UI/UX
Streamline and simplify the entire workflow right from the inbox.
Manage multiple email addresses in one place.
Have hassle-free setup and less complexity in accessing its features.
Have integrations with third-party applications and team communication and collaboration tools.
Provide sources for the knowledge base.
We've done the research and compiled a list of the top 5 email clients for Windows that will enable you to manage your emails more effectively.
Our top picks include:
Mailtrim
eMclient
Spike
Microsoft Outlook
Mailbird
1. Mailtrim:
Mailtrim is a free email client used for both business and personal use. It runs on Windows, Linux, and Mac. Unlike Outlook, its compatibility is unmatched and its built-in productive features take email management to the next level. It supports multiple email accounts and supports both POP3 and IMAP protocols. It can be also considered the best Outlook alternative. For detailed information, you can read our previous article titled "Mailtrim vs. Outlook: Top 10 Secrets You Should Know" here.

Features: Unified inbox, email signature, respond later, categories, rule creation, contacts, advanced settings, calendar, end-to-end encryption, advanced search, flagging, customized displays, archives, and integrations with third-party applications.
Integrations: CRM, Dropbox, Google Drive, and other team collaboration tools like Troop messenger and Cattle Call.
Pros of using Mailtrim:

This email client is free for both personal and business use.
It is easy to set up and access.
Can access emails offline.
Automatic backup in the email server.
No restriction on email amount to keep.
Cons of using Mailtrim:

As of now, all its features work well.
2. eMclient
This email management software is a desktop app and is available for Windows and Mac. The contacts can be merged, deduplicated, and synchronised with Exchange, Gmail, iCloud, Outlook, and Office 365. Also, Gmail messages can be transferred to any other email client.
Features: Calendar, Task, Chat, Contacts management, and Notes. Also, additional features include automatic translation, delayed send, encryption, and Language translator.
Integrations: Google Drive, Webex, Microsoft Teams, OneDrive, Calendar, iCloud, Google Meet, etc.
Pros of using eMclient:

It is easy to use and has customized interface.
Comprehensive contact management.
Chat integration allows communication with each other without composing an email.
Users can view the history of communications and attachments for each contact.
Emails can be backed up.
Cons of using eMclient:

Bugs often occur. However, they can be resolved by eMclient's support channel.
In the free plan, it supports only 2 accounts. For multiple accounts, you need to subscribe to Premium.

3. Spike
If you are a big team, Spike is the ideal choice for you. Through its conversational email and instant messaging features, it encourages productivity and collaboration.
Features: Conversational email, Priority email inbox, Video meetings, Groups, Super search, Calendar, File management, Tasks & To-do lists, and Online Notes. Additional features include a unified inbox, read indicator, quick reply, keyboard shortcuts, encryption, dark/light theme, custom notifications, customizable swipes, customization, send later, snooze, undo send, file preview, multi-media messaging, instant unsubscribe, translate, text to speech, voice messages, etc.
Integrations: Calendar, collaboration tools like Notes, Task management tools and to-do lists, etc.
Pros of using Spike:

A 14-day free trial is available.
24/7 customer support
Users can share Notes with team members
This email client transforms the email inbox into a real-time chat.
Cons of using Spike:

It has a limited storage capacity of up to 5 GB in the free plan.
4. Microsoft Outlook
Microsoft Outlook is a product of Microsoft's productivity package and is available on Windows, Mac, Android, and iOS. This highly secured email client helps manage emails, plan schedules, and organize meetings. This extremely secure email management programme includes a built-in capability for phishing protection, spam filtering, and blocking suspicious emails.
Features: Quick steps tool, Advanced filters, Anti-phishing filters, Calendars, Contacts, Task managers, Groups, Keyboard shortcuts, Customized view, Enterprise-grade security features, Scheduling, and Smart lookup.
Integrations: Word, Powerpoint, Excel, One Drive, One Note, To-Do, Meet Now, etc.
Pros of using Outlook:

Robust spam and phishing filters, seamless to-do list and schedule integration, and efficient organising tools are all provided by Microsoft Outlook.
Best suits for SMEs and large enterprises.
Cons of using Outlook:
Too much functionality.
Paid plans are expensive
Sometimes, users face downsides and bugs with the software.
5. Mailbird
Mailbird is best known for its contact management capabilities. Unlike Thunderbird, an open source email client, it unifies all contacts in one place that can be dragged/dropped, merged, and linked. It creates a unified inbox and workspace by simply syncing calendars, contacts, and tasks. It also supports POP3 and IMAP protocols.
Features:

Unified Inbox, Customizable Layout, Snooze, Speed Reader, Custom Sounds, Linkedin Lookup, Attachment Search, Dark Theme, Shortcuts, Multi-language Support, and 24/7 support.
Integrations:

It has 18+ integrations such as Dropbox, Google Calendar, Google Drive, Slack, Asana, Dropbox, Trello, Todoist, and Social media apps such as Facebook, Twitter, WhatsApp, etc.
Pros of using Mailbird:

It is fast and easy to set up.
It takes contact management to the next level.
It manages multiple email accounts.
Cons of using Mailbird:
Important emails are not properly identified.
Mailbird has no filters or other tools for automation.
Wrapping Up:

Email clients should be conversational and smart enough to organize and manage emails and also to improve efficiency with built-in productivity tools and integration options. We have compiled a list of such email clients above. Choose the best one that fits your needs and take your email management to the next level.