What does cc mean in email and how to use it in Mailtrim?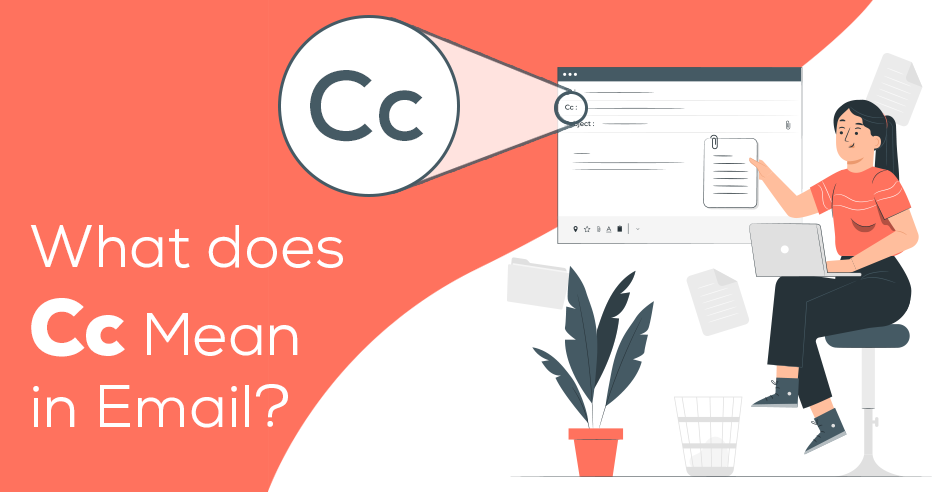 Business communication revolves around mostly on emails. Technological advancements have changed email communication a lot. You can add multiple recipients, use collaboration tools, send bulk attachments, compose scheduled emails, do email marketing, arrange business meetings, and many more.
That is the reason, email stands tall among all other advanced tools as the first best source of communication.
Do you see 'cc' filed while composing an email?
Do you know what does cc mean?
It is an undeniable and funny fact that many are not aware of acronyms of cc and bcc fields while composing an email. But I am sure they know how to use it and when to use it. In this article, I would like to share some information regarding these fields.
Let's dive in.
What does cc mean in email?
Your manager will say, ''send an email and cc assistant manager in the mail''. You will nod and do it perfectly.
But do you know the acronym of it?
I bet most of the people are unaware of it.
Let me tell you.
CC is the acronym for Carbon Copy. Like carbon paper in olden days, it creates a copy of the original message. The copy of the email goes to the people who are in the cc field. The To field is for the original recipient for whom the message was intended to send and cc for additional recipients who don't need to take any action to the mail but aware of the message.
In this, the persons in the To field and CC field can see each others' emails. However, no action is required from the people in CC.
When should use cc?
If you want to include additional recipients, you must use either cc or/and bcc.
Cc is used when
1. you want other persons to keep informed about the emails you send.
If you want to share the copy of the email you send, you should use cc.
If you want multi-person conversation, you should use cc.
If you want other recipients know about certain issues or important information, you can use it.
When people see their name in cc, they can know that action is not required but need to be informed.
2. you want the recipients in the To field know about other recipients who also received the same message.
It is often used when the manager wants to know whether other people are aware of it or not.
If the actual recipients want to make sure that the other people are aware of what is going on. That means, whether they are up to date or not on the daily issues or events or workflows.
You can also forward the same email to the person who wants to keep informed about the emails you send. But, if you want to let the actual recipient also be aware of it, then CC'ing will be helpful and time-saving as well.
The other way: BCC
You can also add additional recipients using bcc filed where bcc stands for blind carbon copy. The same email will be sent to them as well. The difference is the recipients in the bcc field are invisible to both primary and secondary recipients of to and cc fields respectively.
However, the recipients in the bcc field can see the email address of both To and CC field. It is best used when you want to add privacy to the email addresses so that they can't be seen by other recipients.
Any disadvantages?
Not much. But it occupies much storage of the recipient's inbox as their inbox holds two copies of the same message. Thus, it makes their inbox clutter.
However, with the advanced features of email clients like Outlook, Mailtrim, Spark, etc., you can make your inbox clutter-free.
How to use cc in Mailtrim?
You know Mailtrim, a simple and secure email client available on Windows, Linux, and Mac.
Here is the simple way to use cc while composing an email in Mailtrim.
Open Mailtrim application on your desktop.
Log in to Mailtrim with your credentials - Email id and password.
Your 3-tabbed dashboard will appear.
On top of the first tab, you will be shown 'New Mail'. Click on it.
You will be shown a dialogue box named 'compose mail' where you can see all fields – To, cc, bcc, subject, message body, attachments, and emojis, etc.
Add recipients in 'cc' field. Search for email addresses from your address book and you can add as many recipients as you want.
Fill all other fields and click on send. Your message will be delivered to both primary and secondary recipients.
However, make sure that the additional recipients you add are directly involved with the message and will benefit from its information. Because most people want to receive only what they need to know.
Conclusion:
To sum up, To filed is for primary recipients for whom the message is intended and CC field is used for secondary recipients so that they are in the loop and aware of that message.
Make the best use of email features and compose emails to bulk recipients in a fly. Save time, streamline the process, and improve productivity with your business emails.
Thanks for reading.
Have a wonderful day!