Outlook VS Gmail- Which One Keeps Your Inbox Organized?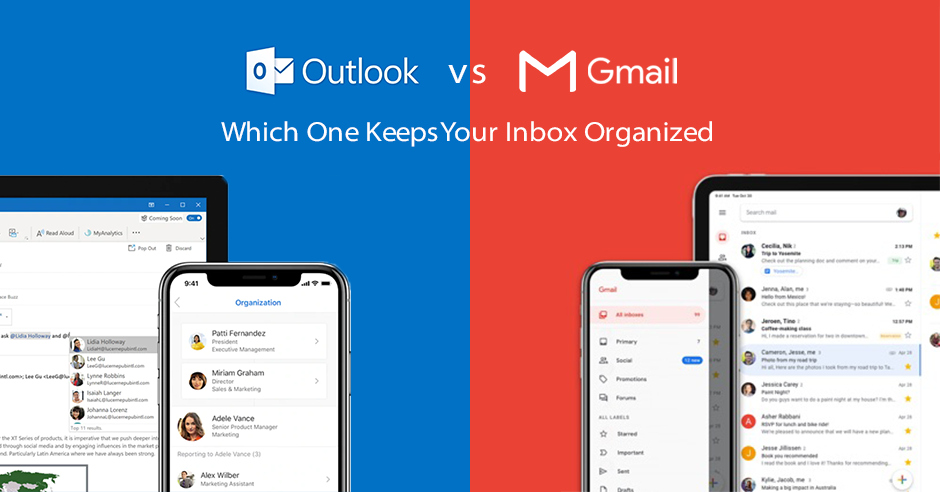 Want to speed up the workflow and improve productivity?


Keep your inbox organized!


As a business owner, you might be receiving 130 emails per day as an average. Managing them all requires a robust email client.


So, have your inbox organized well with productive features of email clients such as contact management, email management, calendar and scheduling, and filtering, etc. and get more time for other important business operations.


Outlook or Gmail? Which one keeps your inbox organized?
There is no clear cut verdict for this. Let's dive into Outlook vs Gmail by its features, design, user experience, cost, integrations, etc. to decide it at last.


At a glance...
Both Outlook and Gmail are email providers. Incepted in 2004 by Google, Gmail has become a popular email provider in no time whereas Outlook (2013), the product (an email client) of Microsoft is giving a strong competitive edge to Gmail.


Interface!. The first impression!
Outlook:
This email-centered Outlook has a clean interface with a three-tabbed toolbar and is clutter-free than Gmail. The default color theme for this is Blue. Its inbox is filled with different ads that can be customizable and the size of the panels can be adjusted. And the users can open the message in a separate window.


Gmail:
Gmail is capable of assisting its users in being a secure messaging app, in addition to having more than including Facebook lead ads, Google docs, Google sheets (automated emails), CRM apps such as Shopify, WooCommerce, Podio (lead outreach), etc. Gmail users can also import contacts from social media accounts.


Storage space and cost! The 2 key factors that gain the majority!
Storage: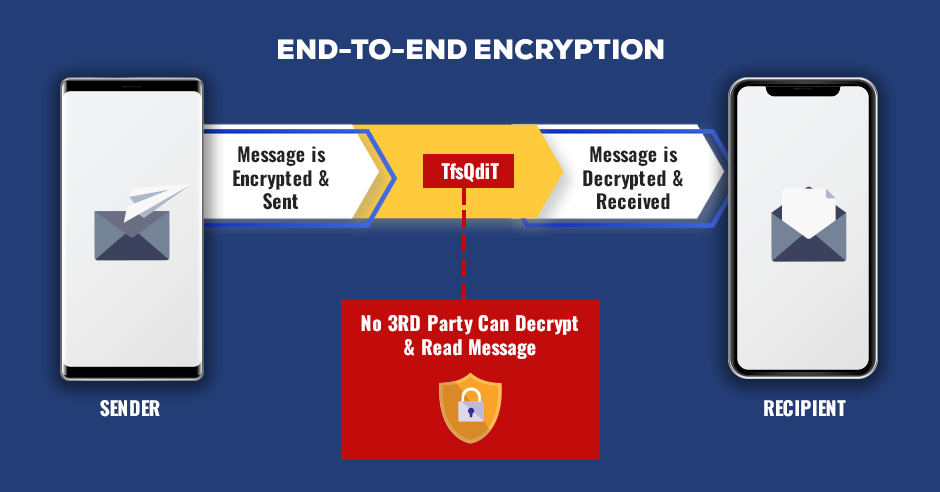 Which one is affordable?
Both Outlook and Gmail are free for personal use and costs for work or business accounts. Office 365 and G-Suite decide the cost of the email service.
Office 365:
Outlook for personal use is free but with some limitations. It has various paid plans with an annual contract as mentioned below.
• Business Essentials - $5.00
• Enterprise E1 (inbox storage of 50 GB along with 1TB storage) - $8
• Business - $8.25 - office chat app, cloud storage, and file sharing.
• ProPlus - $12
• Business Premium – Business email, Office applications, and other services - $12.50
• Enterprise E3 - $20
• Enterprise E5 - $35
*The cost is per user per month.
G-Suite:
• Basic – Gmail, calendar, Google docs, team chat, video conferencing, and audio conferencing – 30GB storage -$6 per user per month. If you are a startup, the Basic plan is sufficient.
• Business – G-Suite apps >30GB storage - $12 per user per month
• Enterprise – Unlimited storage, integrated apps, Advanced controls - $25 per user per month


How Outlook and Gmail differ in organizing emails?
Outlook:
• Folders and categories: These will organize outlook inbox. Users can use color code for emails, events, and tasks. Users can organize emails, move them into the various folders, assign categories, and set up notifications.
• Advanced search: This feature allows users to find the specific email in many ways. Users can look into the folders, or they can sort them using various columns, search folders, etc. directly.
• Flagging: Users can flag an email as important while sending and add reminders. Want a clean inbox?. Archive emails.
• Spam management: Irrelevant and unwanted emails can be out of inbox or deleted forever.
• Outlook allows users to view job titles, departments, hierarchy in the organization, photos, online status, schedules, and many more related to the contact.
• It also allows users to see the availability of projectors and schedule meetings.
• Alerts: It alerts users before sending to large distribution lists or people with automatic responses
• It gives delegate permissions for folders and calendars.
• Quick view folders: This feature automatically tags messages with categories like photos, documents, newsletters, etc. such as Documents, Photos, Newsletters, etc.
• Create a rule: Make your own rules to automatically filter emails.
• Its other features include Clutter and Calendar integration make email experience even better.
Gmail:
• Gmail users can organize Gmail inbox through labels instead of folders. They can categorize events and color code events
• Advanced search: It lets you find any email using a label, file names directly.
• It gives only the basic contact information of the users.
• Google will also automatically filter emails into Primary, Social, and Promotions tabs and saves you time.
• Users can mute conversations, add a star for important emails, and personalize ad preferences.
Integrations that adds more value to the email management
Outlook:
Outlook has social integrations such as Facebook, Twitter, and LinkedIn along with Office 365 apps and OneDrive. You will see the updates and links from outlook once you open it. You can also enable and disable the notifications.

Gmail:
Gmail has 100+ integrations including Facebook lead ads, Google docs, Google sheets (automated emails), CRM apps such as Shopify, WooCommerce, Podio (lead outreach), etc. Gmail users can also import contacts from social media accounts.
Outlook vs Gmail for business: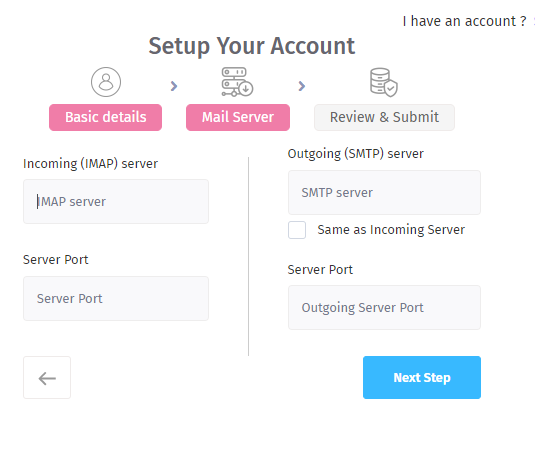 Oops! The connection was lost!
Outlook users will say that it wouldn't be a problem as they can access their emails offline.
What about Gmail users then?
They can access emails offline but only the past emails and that too on some browsers.
Here Outlook wins the battle.
Last but not least, Updates!
Without any new versions and updates, any application would be a fail. Gmail provides constant updates and recently, auto completions in composing an email are attention-grabbing and time-saver.
On the other hand, Outlook also has its efforts to beat Gmail by improving its emailing experience and other add-ons.
Finally, Outlook vs Gmail. Which is better?
Which One Keeps Your Inbox more Organized? Outlook or Gmail?
Which is the best for business and productivity? Outlook or Gmail?
Let us sum it up with major differences.
Streamlining customized workflow is the secret for greater productivity. Both Gmail and Outlook have excellent UI; both have their own calendars; both had built-in spam detection; both provide S/MIME support; and both provide an extra layer of security through two-factor verification.
Where does Gmail win?
• Gmail is known for its simplicity.
• Gmail is compatible with Email Analytics, a third-party application that lets its users track their email habits.
• Gmail is best at Customizability and Storage capacity.
• Organizing emails on Gmail is simpler than Outlook.
• Gmail stands tall for its seamless functionality, affordability, outstanding synchronization, and collaborative than Outlook.
• Advanced Search makes Gmail win over Outlook. Gmail has speed and search functionality that Outlook can't meet.
• It is more reliable than Outlook and its filter options are robust.
• In-built chat in Gmail allows a quick conversation with teammates whereas Outlook needs third-party apps integration like Skype to start an instant chat.
• Google translate within a message helps users to translate the message to another language. This is one more feature that Outlook lacks.
Where does Outlook win?
• Outlook users can view the meeting resources availability that Gmail didn't have.
• Outlook provides group mailing but Gmail doesn't. (Only in case it is connected with email clients like Thunderbird or Outlook).
• With Outlook, users can flag important emails and follow them up with reminders. And it allows alerts for specific emails.
• In the case of privacy, Outlook's T&C is more transparent than Gmail.
• File storage and email storage of free version in Outlook are better than Gmail's free version.
If you are looking only for a single email service opt for Gmail otherwise opt for Outlook. However, make sure that you have an Exchange account to be benefited from Outlook's Meeting Scheduler and Out Of Office.
You can link Gmail with Outlook to experience the best of both the worlds - Outlook interface and Gmail email service.
However, the choice solely depends on your personal preferences and professional needs.
Final Verdict:
You might have confused about choosing one between the two. Hope this article helps in solving your dilemma a little bit. If you are looking alternative to both, you can try Mailtrim that comes with both functionalities and features of Gmail and Outlook.
Feel free to leave a comment here.
• Is anything missed out in Outlook vs Gmail?
• Share your emailing experiences with Outlook and Gmail.
• Which email client do you think the best in organizing your inbox?
• Have any thought to try an alternative to both of them?